~Unspoiled nature in an unknown place~ Camiguin Island
© CEBU navi SAKURA | vol.23 Sep.-Oct. | 2019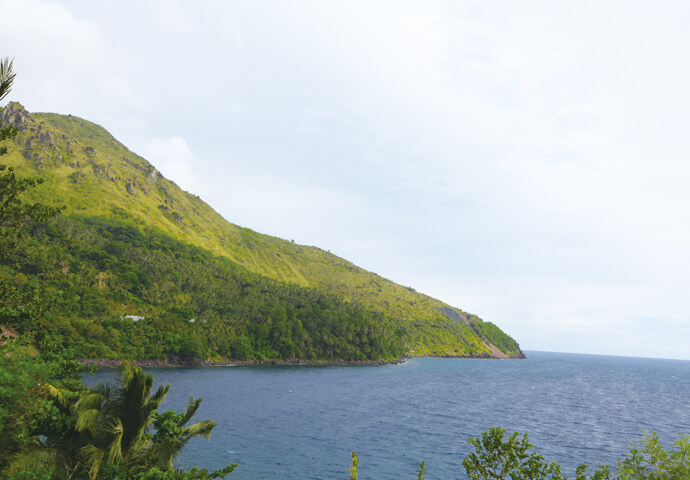 Only 50 mins away from Cebu city by airplane.
It's amazing Island with full of treasure and beautiful nature.Let's see and try many attractions!!
Crystal clear ocean, natural and historical attractions. You will fall in love with a very scenic beauty and view!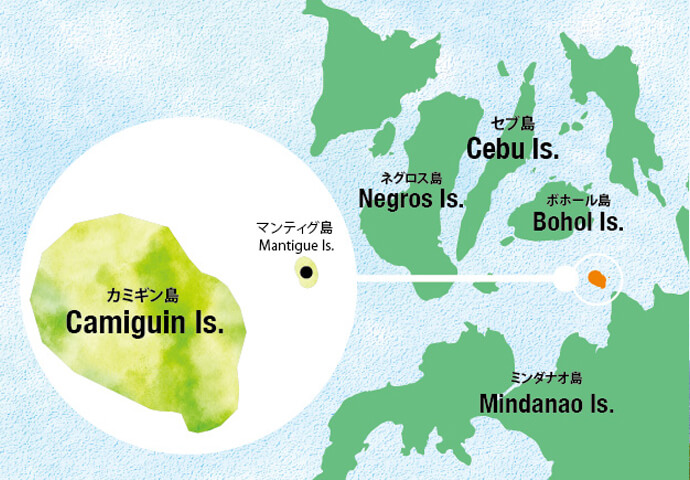 The second smallest province in the country in terms of population and land, Camiguin is an island part of the Mindanao Region, which is located in the Bohol sea. Its name came from an ebony tree called "Kamagong." This kind of tree blooms near Lake Mainit. The people of the island are called "Camiguingnons." It is said that the original settlers of the small island were Manobos of Surigao del Norte with their dialect "Kinamiguin." Now, their spoken language is mixed with Cebuano, Boholano and Kinamiguin. Also, Camiguin is a pearl-shaped island known as the "Born of Fire" as it has been nested with 7 volcanoes. Fortunately, out of the 7, only Mt. Hibok-Hibok is the active one. Moreover, beyond the volcanoes cloaking the island, you get to see more of Camiguin`s charm.
The island will surely impress you with historical facts and pristine ecological environment since it is famous for historical sites, beaches, cold springs, hot springs, waterfalls and lush green forest. Describing the island's majestic attraction is best justified when you truly experience it. Do not underestimate the island`s size because it offers you more of gigantic and quality treats. Go and marvel at Camiguin!
Enjoy inspiring attractions and delicious food…There is a precious moment under the starry sky.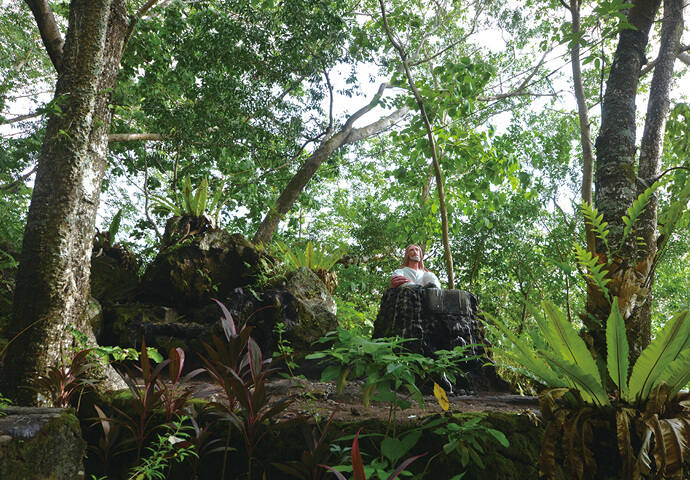 On the Island Camiguin, tourists can enjoy various kinds of activities such as hiking, snorkeling, diving, etc. while feeling a sense of unity with nature. What's more, many gourmets are available in the restaurants bar and cafés especially Lansones wine is a must-try and you can't miss the superfood, Moringa that can boost your health. In addition, there are luxurious resort hotels with enjoyable activities that include entertainments in cozy Island.
One of interesting spot which can be seen exclusively in Camiguin is called giant clam sanctuary where huge clams from southeastern area inhibit. These clams are expected grow up to 2 meters. Last but not the least, you can feel the ambiance in Ghibli world.
Camiguin offers a chance to have a wonderful experience!!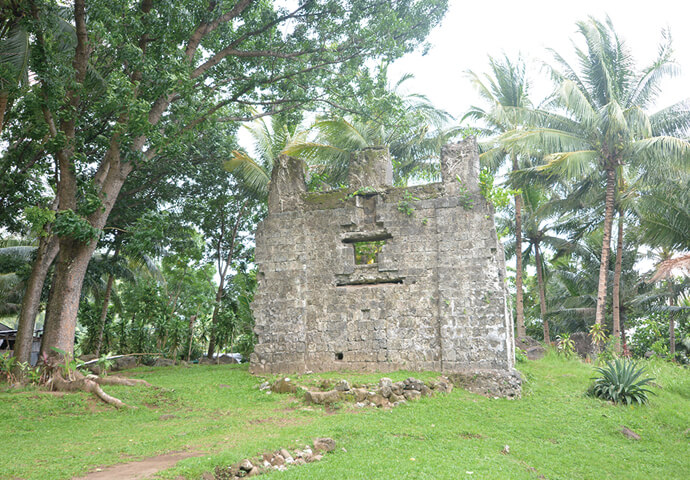 Please say hi to over 100 years tree.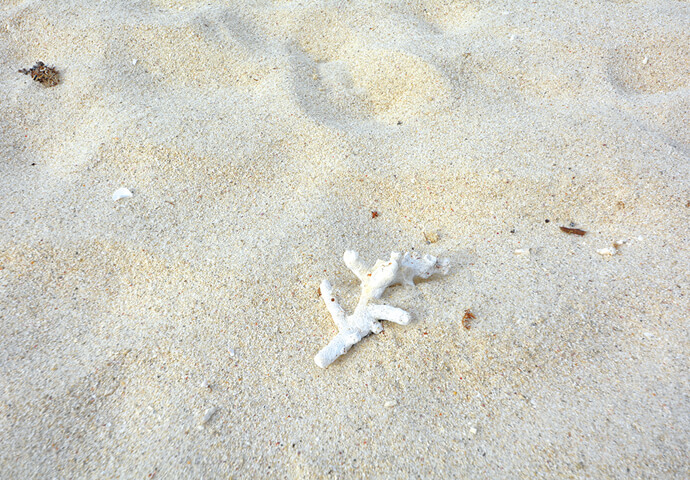 Pretty shells on the beach. Let's collect!!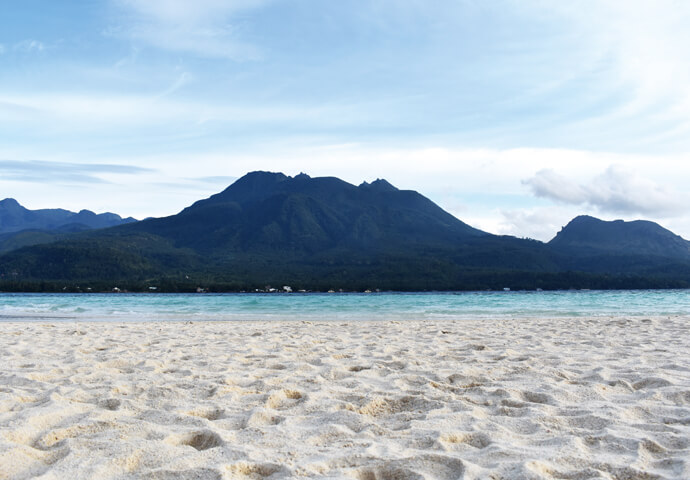 Full view of Mt.HibokHibok.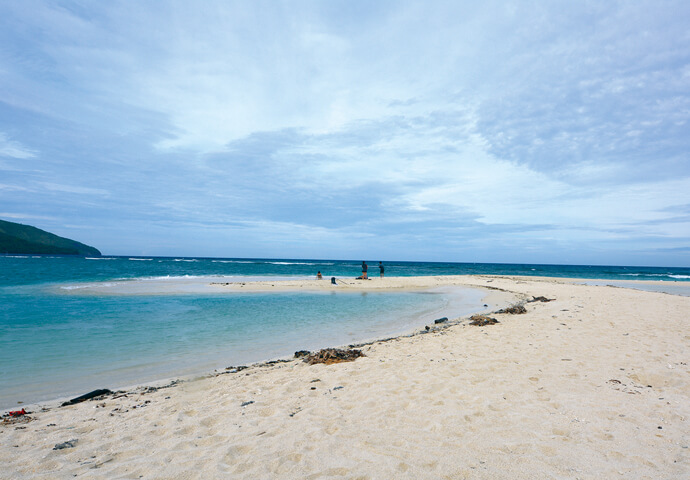 Make you feel good! walking barefoot on the white sand beach.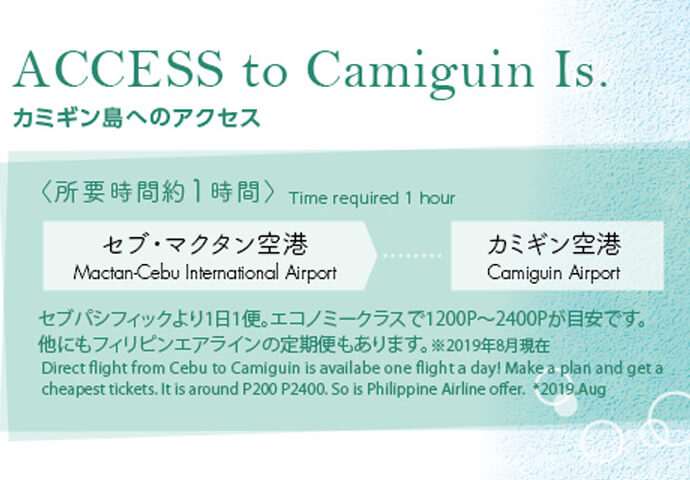 Where to Go!! Camiguin Island
Camiguin Airport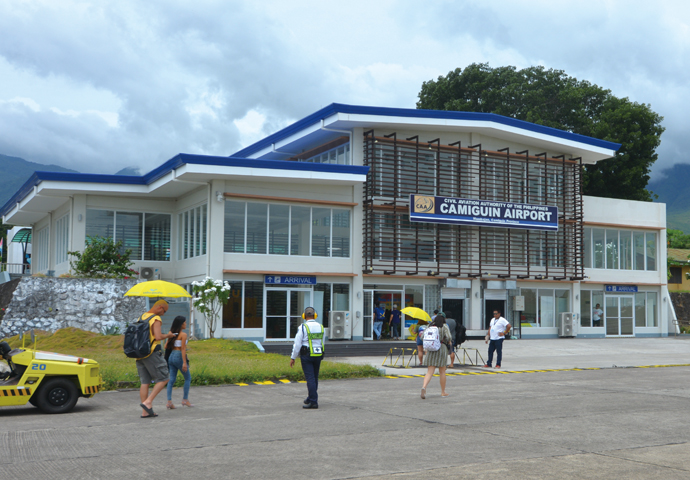 Arrive at Camiguin Explore the Camiguin town by Muiticab!! You can drive all the way around Island in an hour!
Motasela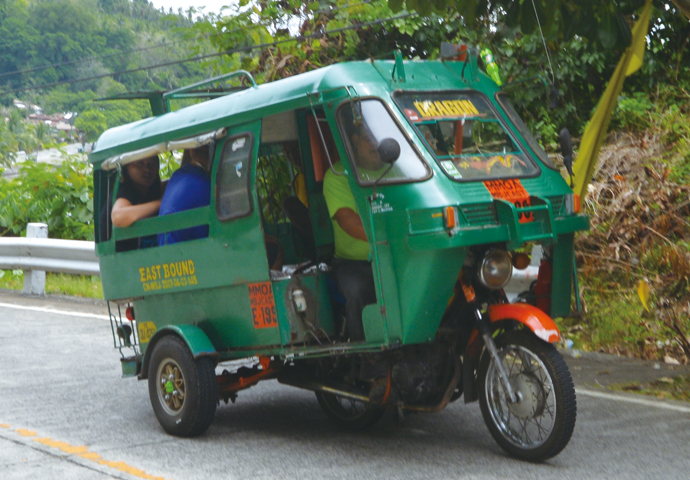 Multicab is one of main transportation in Camiguin. Enjoy your drive with fresh air!
Spot 1 : Sunken Cemetery
A mysterious cross floating off the coast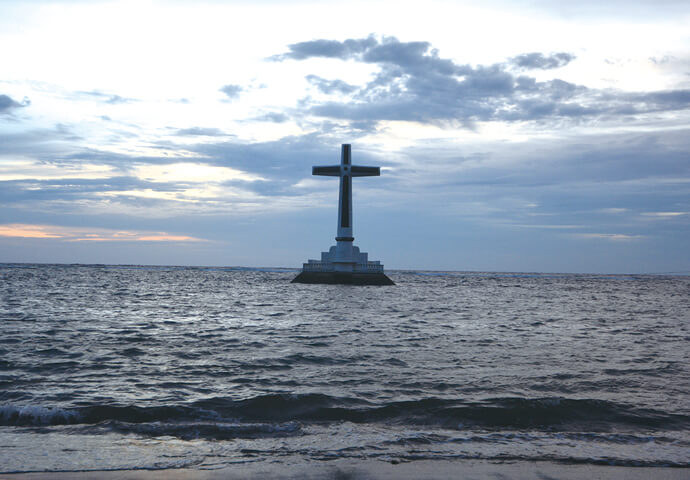 A large cross was built to commemorate the massive death of people after the volcanic eruption that occurred in 1870. It is now an instagramable sightseeing spot, and it is very popular as a commemorative photo shoot place, taking it from a distance, taking it as if it was on your hand, or taking it close. Mysterious shooting at magic hour and twilight time is also good. If you snorkel near the cross, you might see a huge crumb of about 1 meter!
Spot2: Old Spanish Church Ruins
Old Church Ruins of the spanish colonial period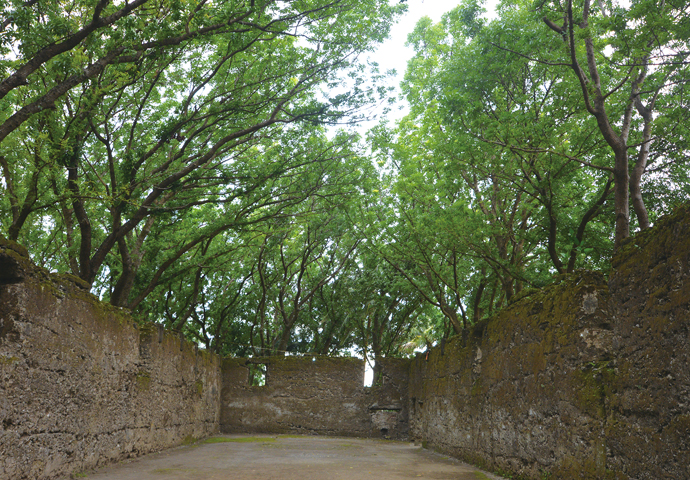 The ruined church was built by meteorites in the 16th century, a Spanish colony, a few minutes walk from Shunken Cemetery. It was destroyed after the volcanic eruption in 1870, and now it looks like a ruined building covered with moss. Beside the building is a huge tree over 100 years old, and it is recommended sight seeing spot where you can feel the history.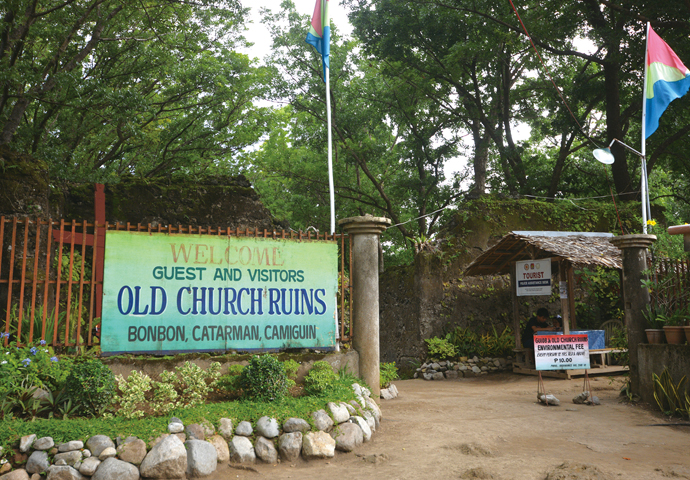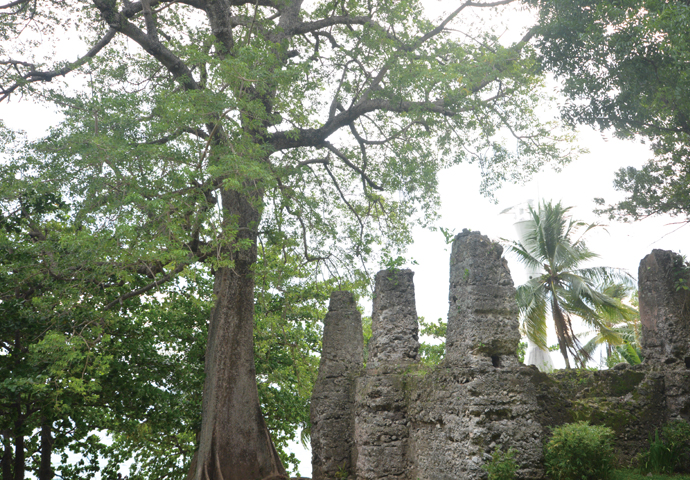 Spot3: Walkway to the old volcano and station of the cross
Ready for the trekking???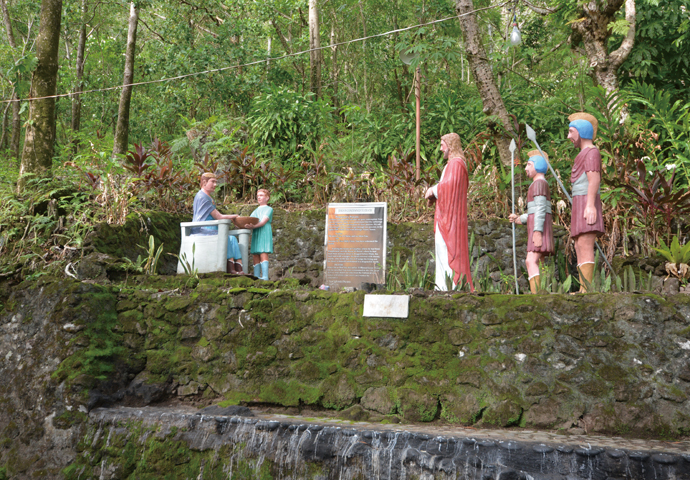 The statues we see along the way depict the (14) Stations of the Cross! It is a mildly strenuous hike, but worth the breathtaking view from the top.

-----------------------------
Entrance fee P30 
Guide P500
Spot4: White Island
A breathtaking beauty! A pure white uninhabited island standing in the deep blue sea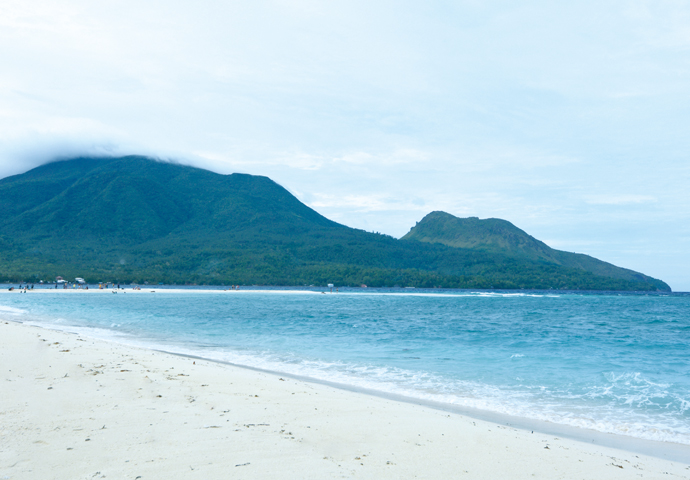 If you come to Camiguin here is the place where you want to go! Phantom Island or White Island that appears only in the early morning and evening! Please experience the superb view of the clear sea and the white sand where you can see the depth of the sea, the soft waves and the comfort of white sand. Freshly picked sea urchins are also highly recommended!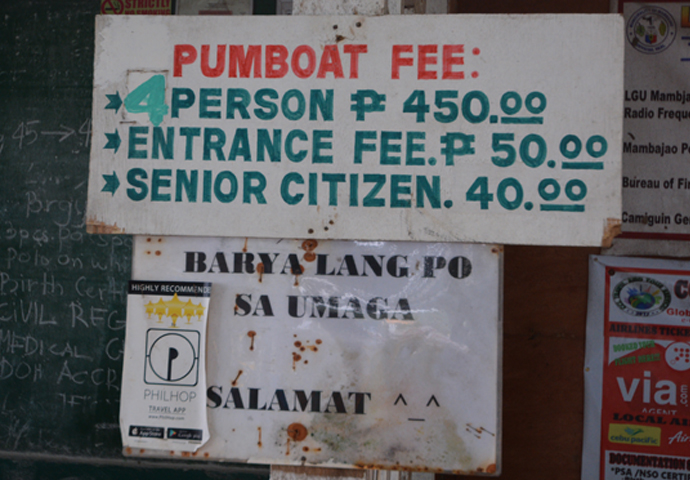 Entrance fee P60
Boat(Good for 6)Round trip P450
ex.6 members, P75/person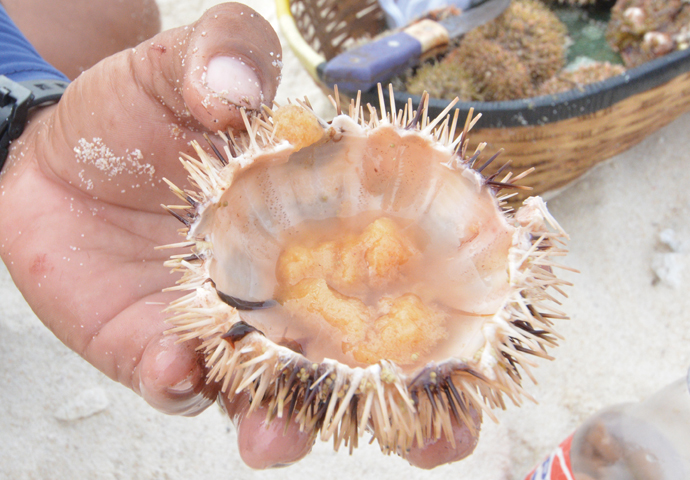 Must try fleshly caught sea urchin
*P50/ 3 pieces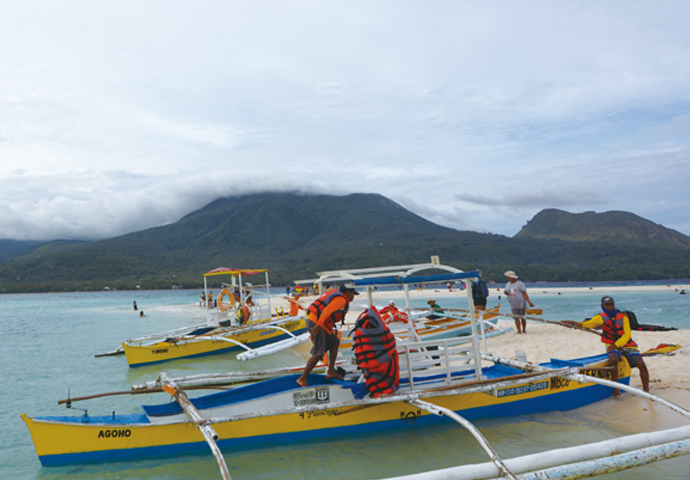 Spot5: Mantigue Island
Snorkel activity can be enjoyed here!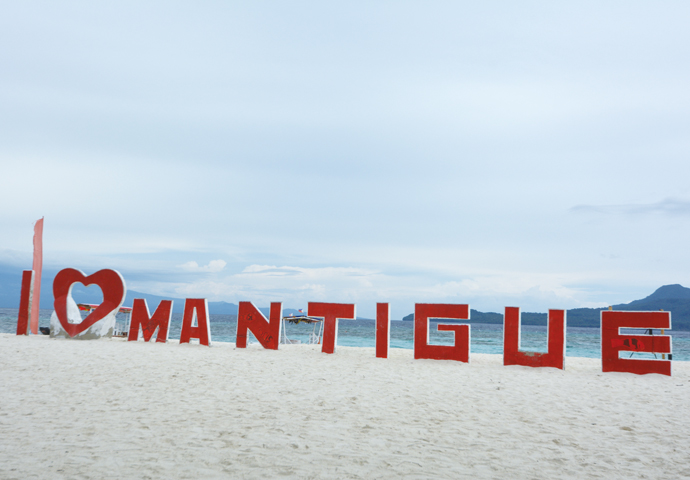 White sand Island with a dense forest in the center. This is the best place for snorkeling because it is not crowded. A lot of friendly clown fish swim and come. You will be healed by colorful coral fish and beautiful coral reefs. You should visit this place with snorkeling equipment.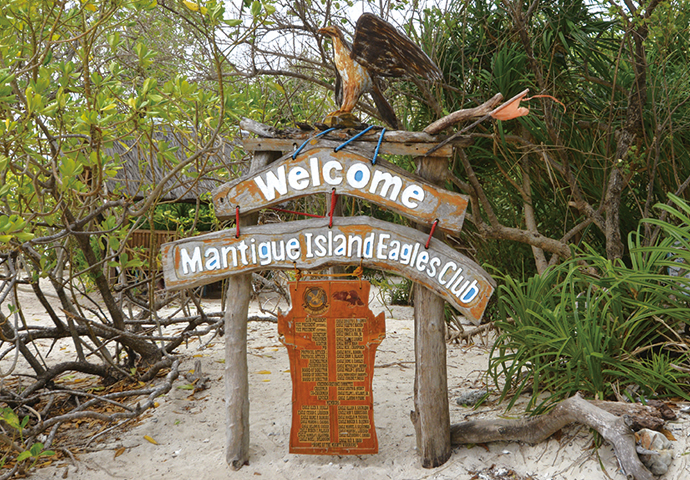 Share-ride boat is available!
*P600/Boat, P30 for Environmental fee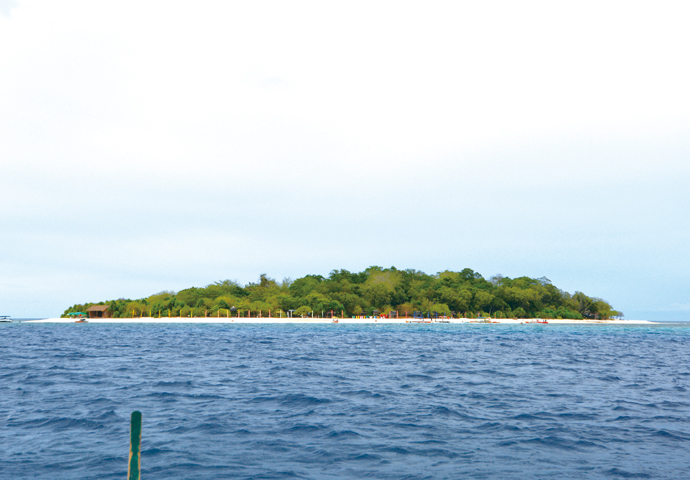 Recommended Restaurant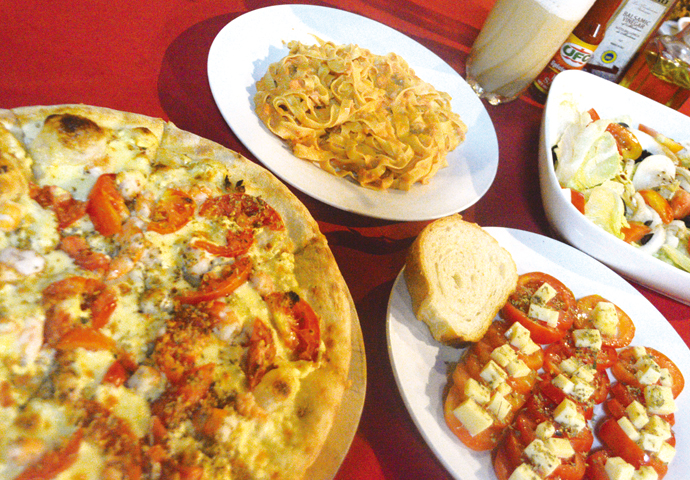 Must try Runa's homemade pasta which is around 300~400pesos. It is affordable! Also try to order own topping pizza. Fresh tomato dishes are available!!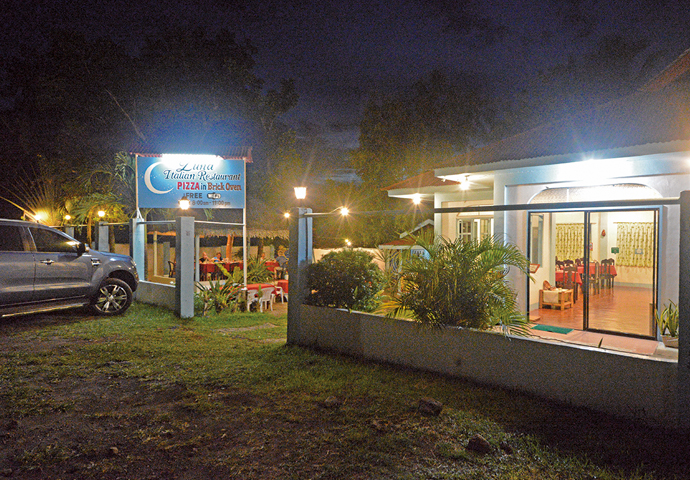 Luna Italian Restaurant
------------------------
Camiguin Circumferential Road, Barangay Yumbing, Mambajao, Mambajao, 9100 Camiguin
Souvenirs from Camiguin Island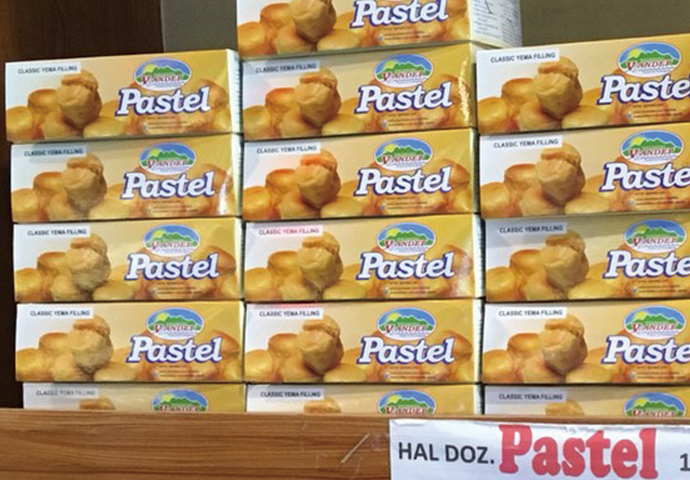 Pastel means Spanish cake, sweet dough and peanut butter originated from exquisite Camiguin. There are now 12 types of flavor in bread, making it a popular souvenir.
Back to the list