Siquijor, the mystical and beautiful Island
© CEBU navi SAKURA | vol.22 Jul.-Aug.|2019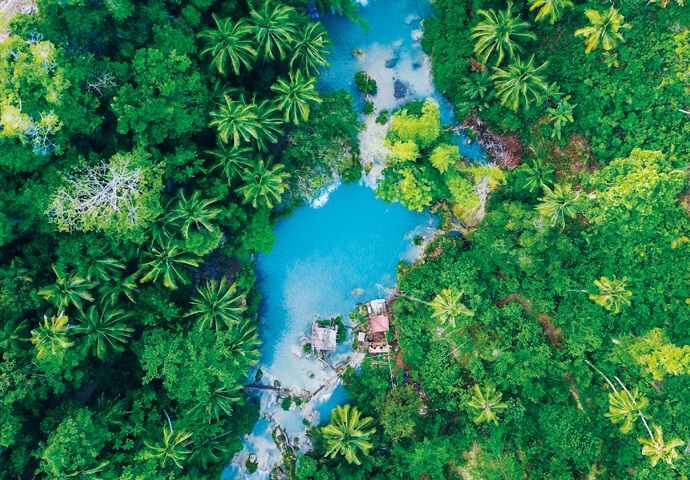 Siquijor is also called a witchcraft island, but not only that, there is also precious nature and antiquity here. If you want to relax and unwind, Siquijor is waiting for you!
A perfect fusion of beauty and mystery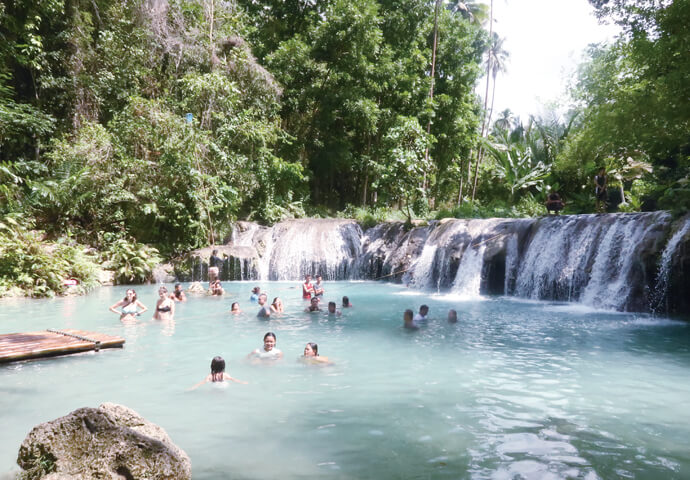 Known as an enchanted island veiled in mystery, Siquijor is an island province in Central Visayas, which lies southeast from Cebu and southwest from Bohol. Back then during the Spanish era, Siquijor was dubbed as "Isla del Fuego" or Island of Fire for its magical glow caused by the great swarms of fireflies. These enormous fireflies dwelled in the island's most abundant trees, the molave trees.
Also, the island province is really famous for stories about witchcraft, love potion and terrifying creatures, so when you mention Siquijor, most of the the Cebuanos will think of supernatural tales or folklore. Thinking about these uncanny things would really make you spook. Despite that, the mystical island has a great kind of enchantment that is ironic to what it has been known. It is more than just mythical; it provides you a captivating encounter with nature and heritage. The island is rich in history, culture and tradition. Plus, it is beyond doubt appreciated with its scenic tourist spots. Siquijor is the perfect fusion of mystery and beauty that gives you a remarkable getaway experience! So, push aside the myth and explore the charm of the mystical island!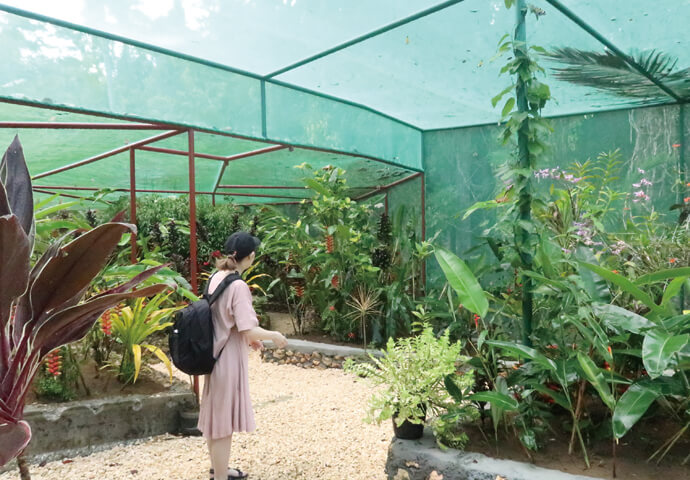 「Butterfly Sanctuary」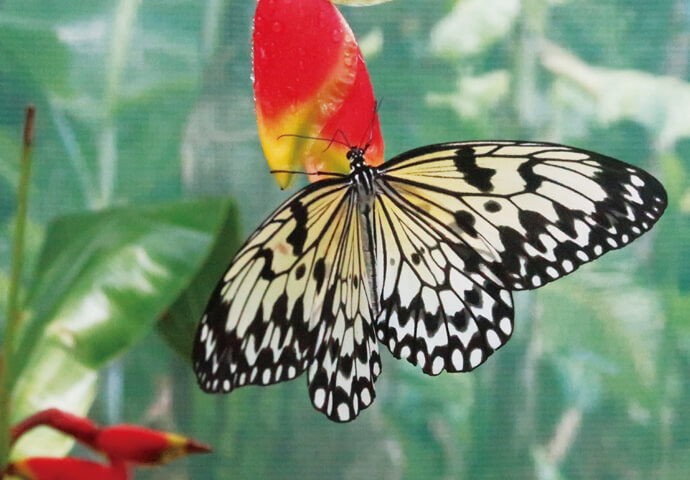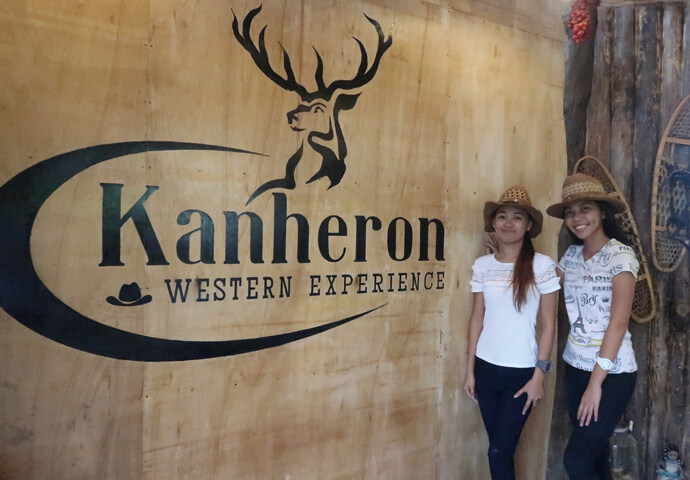 Kanheron
Western Experience
In search of pristine nature... just hop on the boat from Cebu
The most convenient way to go to Siquijor from Cebu is by a boat. Take a ferry called Ocean Jet to reach Siquijor Island in about 5 hours via Tagbilaran Bohol. If you stop at Tagbilaran, you have to catch another boat going to Siquijor Island. One attraction in Siquijor Island is a mangrove tree called "Balete Tree", which is said to be over 400 years old. A number of thin branches intertwine around the tree, and its natural landscape created over the years is a masterpiece. Also, there is a spring in the cape where there are lots of doctor fish, so dip your feet and ready for a foot massage. You may also visit Kambugahay Falls, a popular playground for locals. Holding on a tarzan rope and swinging on the water, the waterfall is a refreshing dive!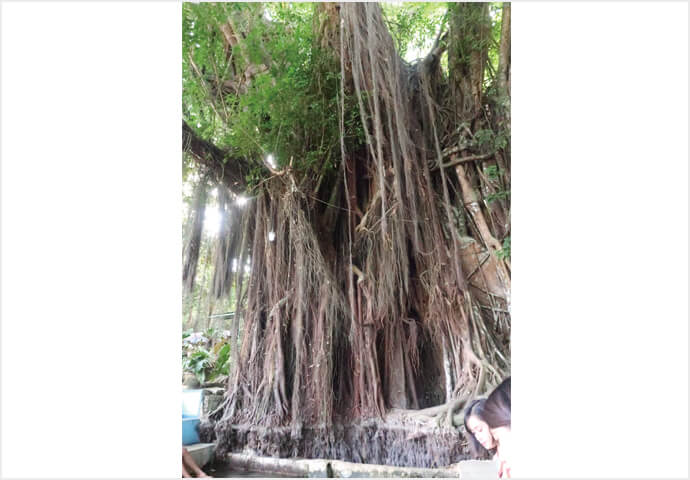 Barete tree said to be over 400 years old.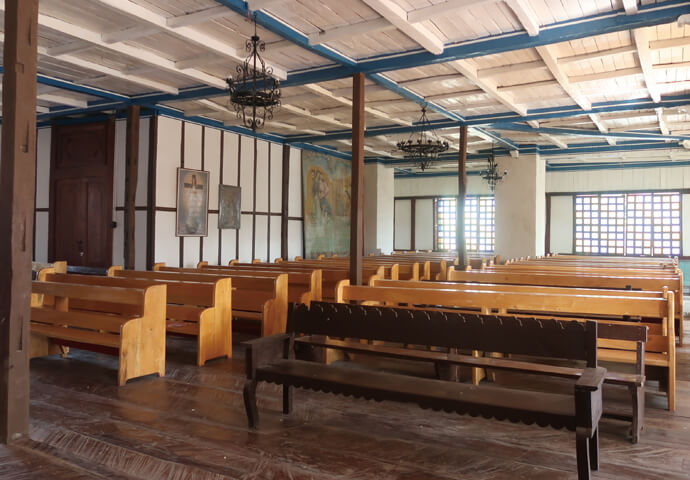 CONVENT OF LAZI(San Isideo Labrador Church)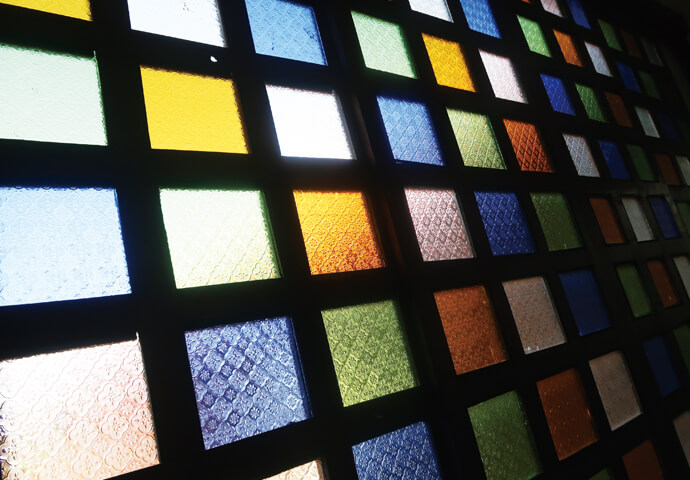 CONVENT OF LAZI(San Isideo Labrador Church)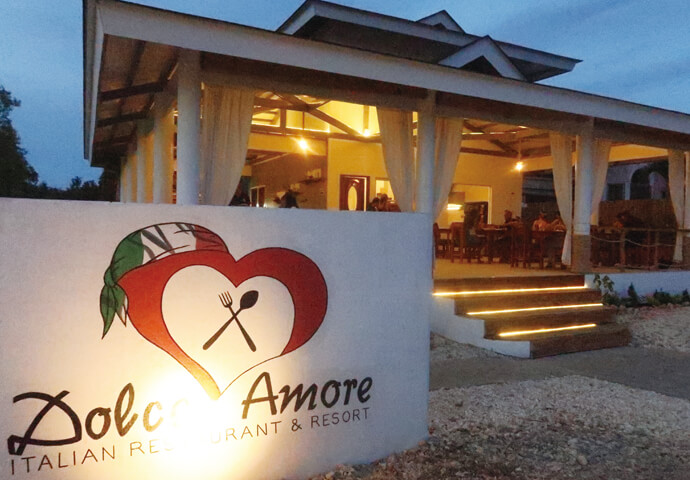 Italian Restaurant Dolce Amore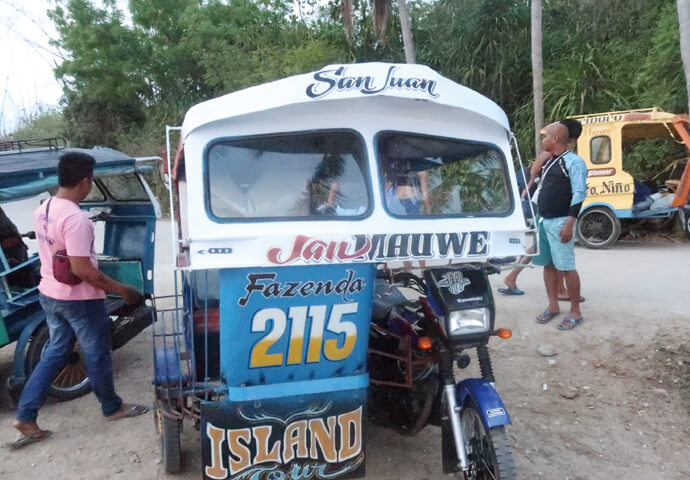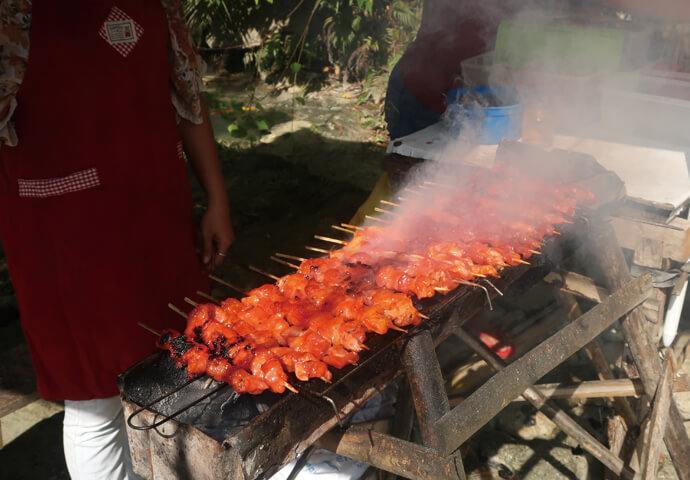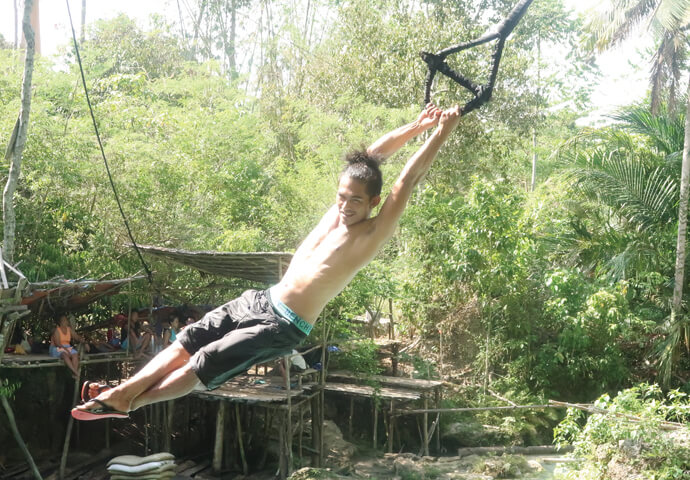 Tazan-rope-dive at Cambugahay Falls.
ACCESS to SIQUIJOR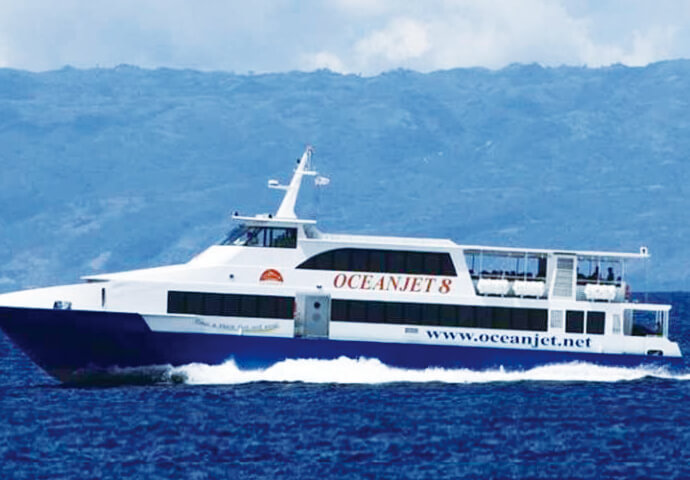 Siquijor Pier Route(Time required 6 hours)
Cebu→Dumaguete→Siquijor
・Taking the Ocean Jet ferry or the Delta Fast Ferries etc.

Larena Route(Time required 56 hours)
Cebu→Tagbilaran on Bohol Island→Siquijor
・Taking the Ocean Jet ferry
Short-trip to Siquijor
Siquijor is famous for eerie rumors, so Sakura earlessly went there to check out! Let's find out!
Day1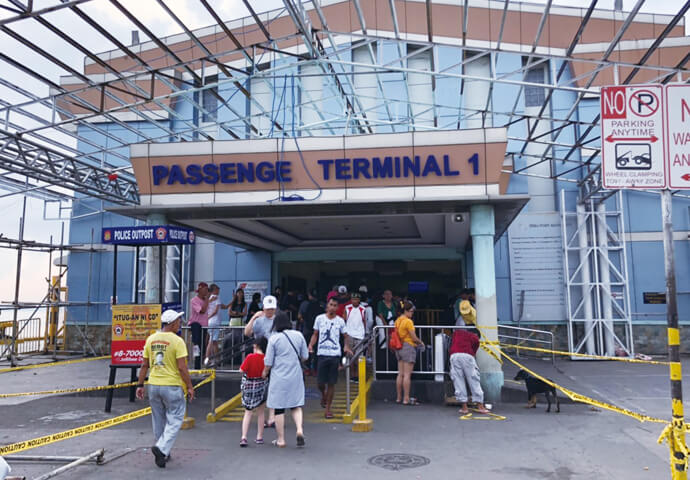 8:00 Depart from Cebu pier1
Inside the ship, the air conditioning is strong,
so it's little cold with T-shirts.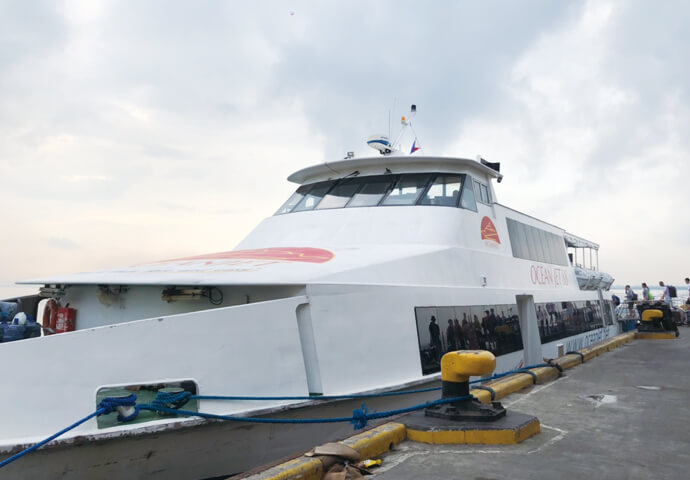 10:20 Head to Larena via Tagbilaran (Bohol)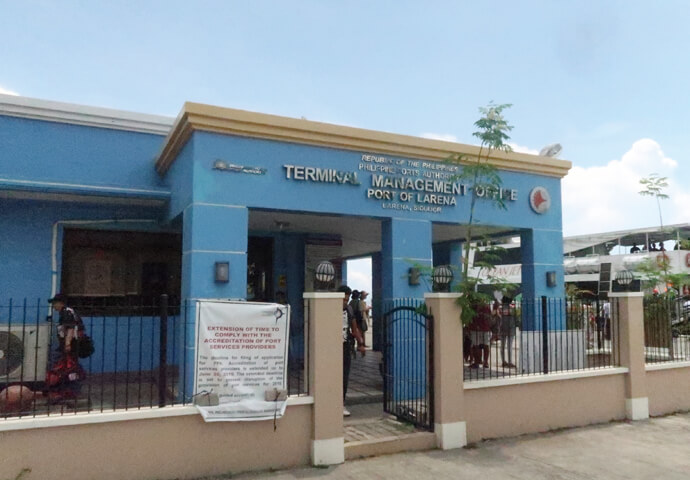 12:45 Arrive in Siquijor(Larena)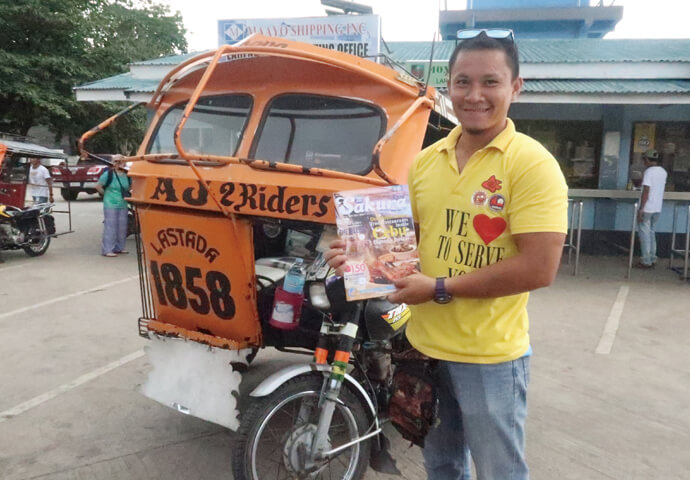 A sightseeing tour starts from the port through a tricycle.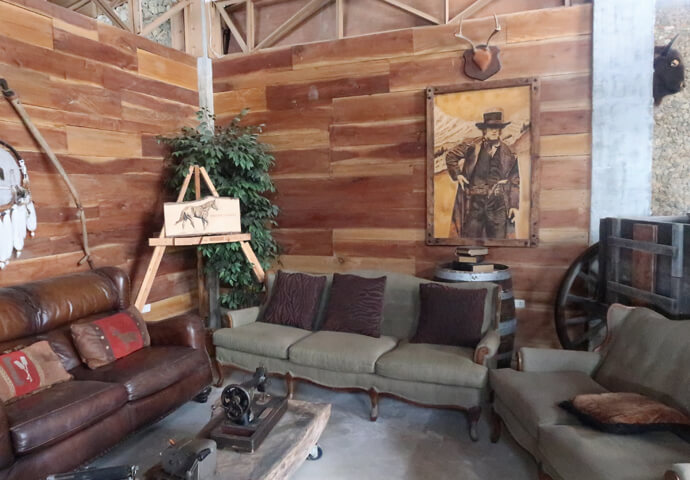 13:00 Western Museum "Kanheron Ranch"

The owner's hobby is collecting things from around the world.
Entrance fee P50 Parking fee P50 Open 8:00-20:00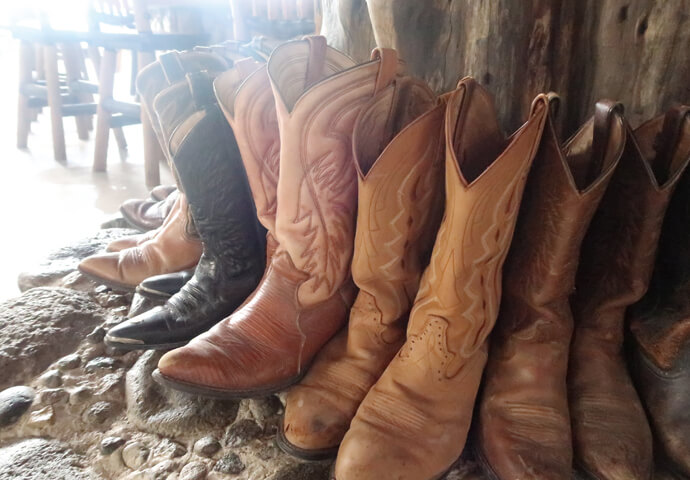 A lot of Western goods in the building!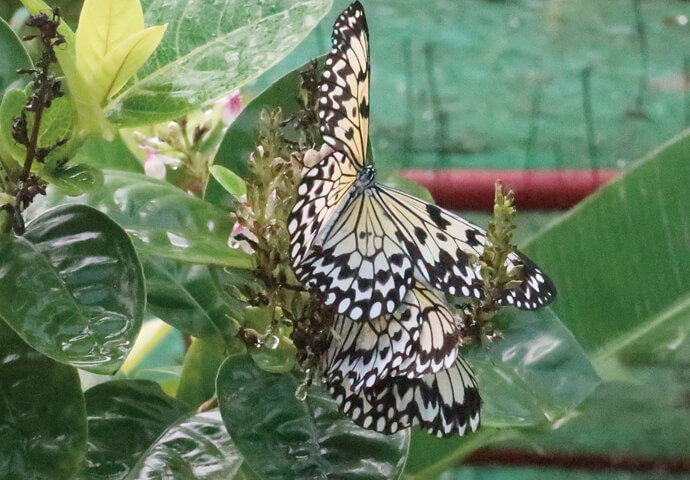 14:00 「Butterfly Sanctualy」

There are about 50 species of butterflies housed inside the garden covered with net. So, take a closer look of how eautiful the butterflies are.
Entrance fee P100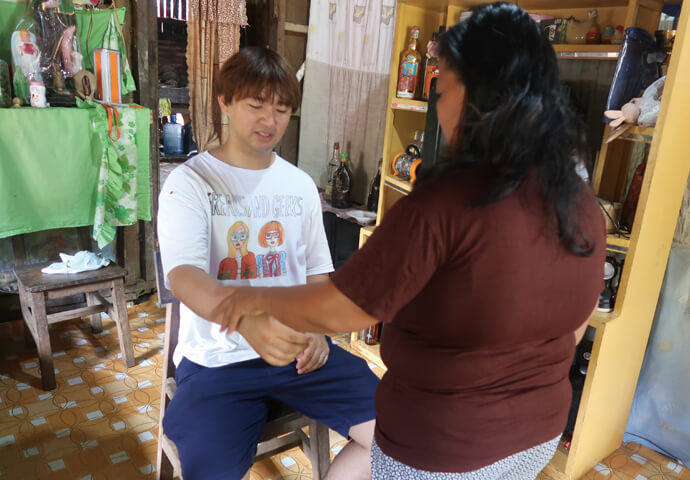 15:30 Healing experience

Nothing beats a perfect healing massage in Siquijor at a local healer's house surrounded with the soothing sounds of birds,
cats and bubbly kids. It is pleasantly cool. There is no fixed fee for the massage, so feel free to drop any amount in the box.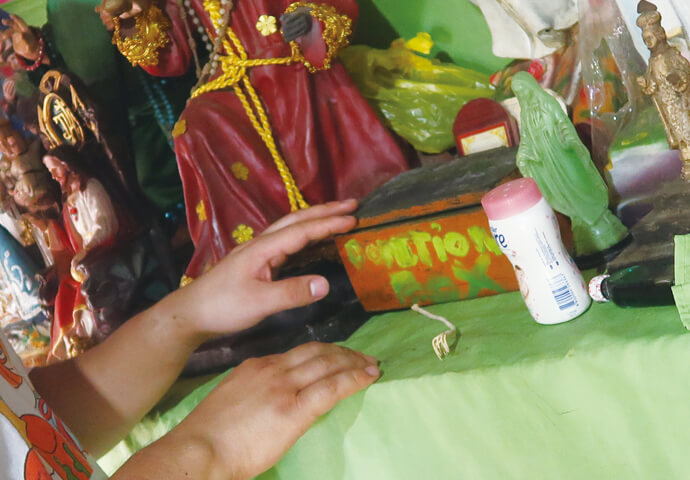 Drop your money in the donation box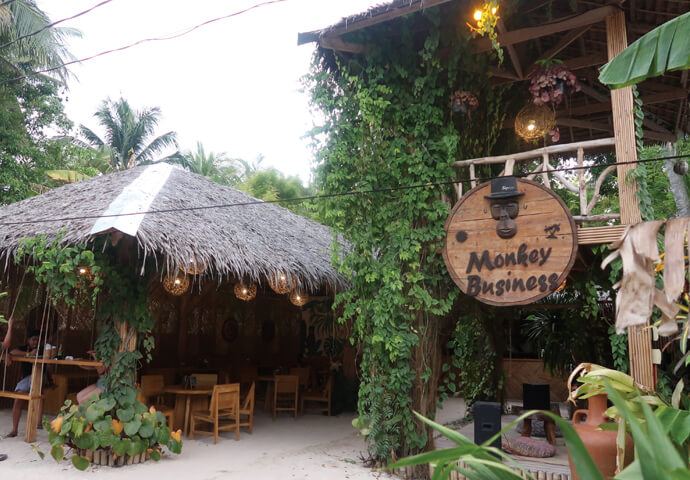 16:30 Stay in the bungalow"Monkey Business Bungalow "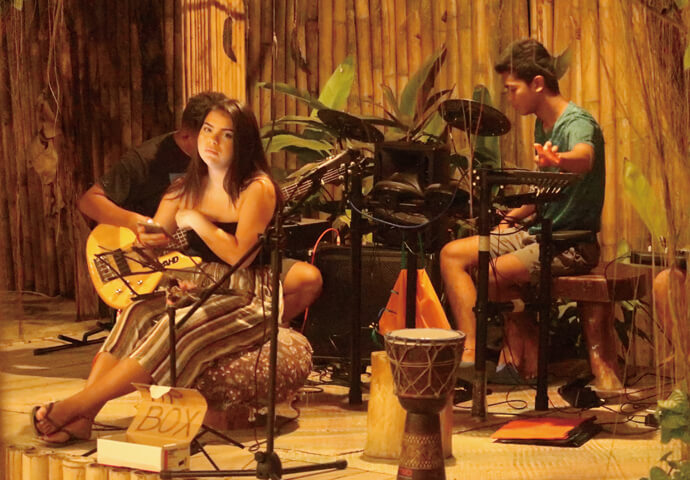 A bamboo bungalow with bamboo beds, chairs and tables! Feel free to walk barefoot on their restaurant's floor covered with white sand. Also, complete the relaxing ambience by their Jazz band's live perfomance in the evening.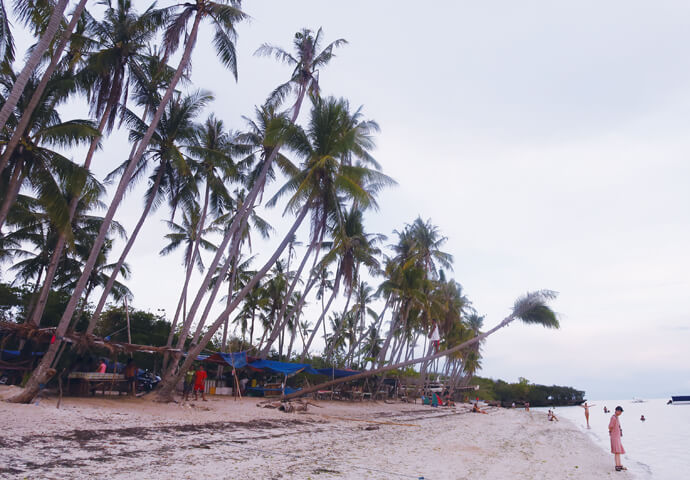 17:30 Have a quiet time on"Palton beach"

There is no entrance fee on this local beach. The white sand spreading infront of you and the sound of waves will heal your mind.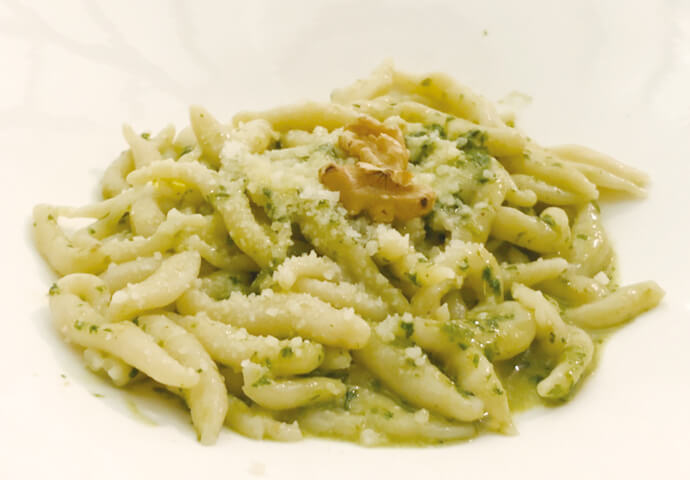 18:00 Dinner at"Dolce Amore"

Basil flavored pasta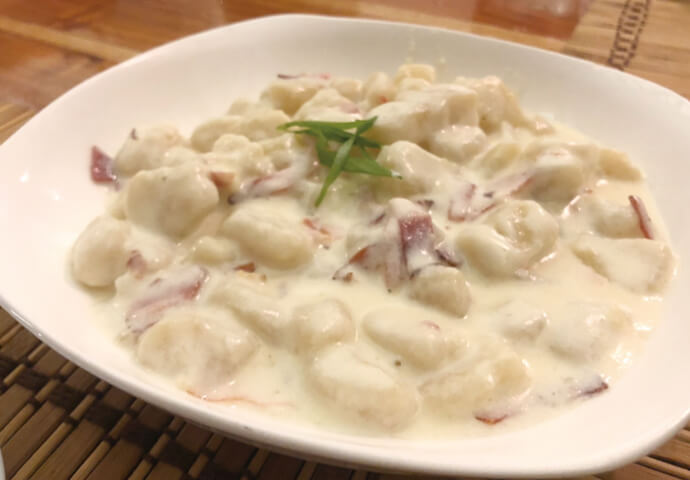 Cheese flavored potato

Italian chiefs serve pizza and pasta. Pasta is recommended for people who want to eat a little bit more. Price starts at P300 for pastas.
Day2
7:00 Check out the hotel.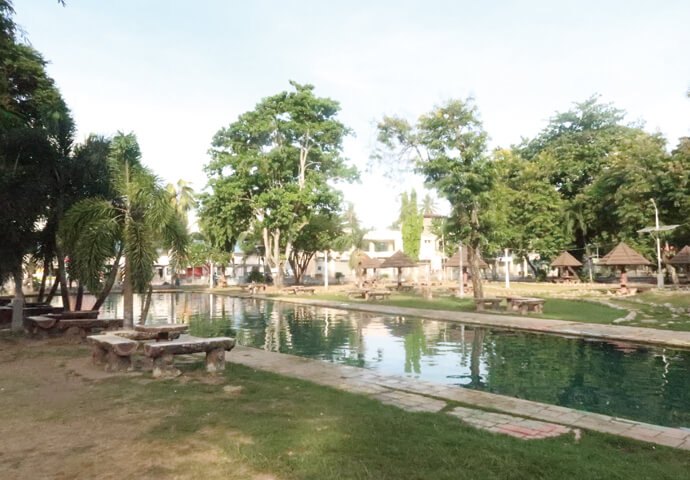 "Capilay Spring Park"

This park has become a place for locals to have a picnic. There are playgrounds and restaurants around.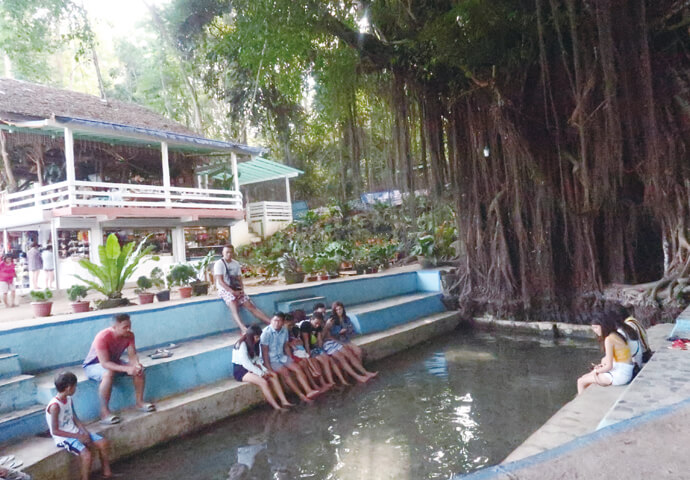 8:00 "Century Old Balete Tree"

At the bottom of the 400-year-old "Balete" tree, there is a cold spring with lots of doctor fish! Fishes will be nibbling the calluses from your feet when you put them in the water. There are also souvenir shops and restaurants around. Entrance fee : P10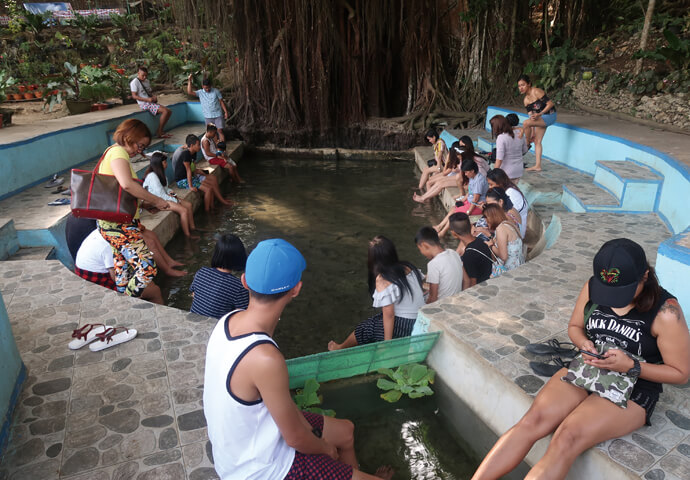 It's surrounded by green and feels good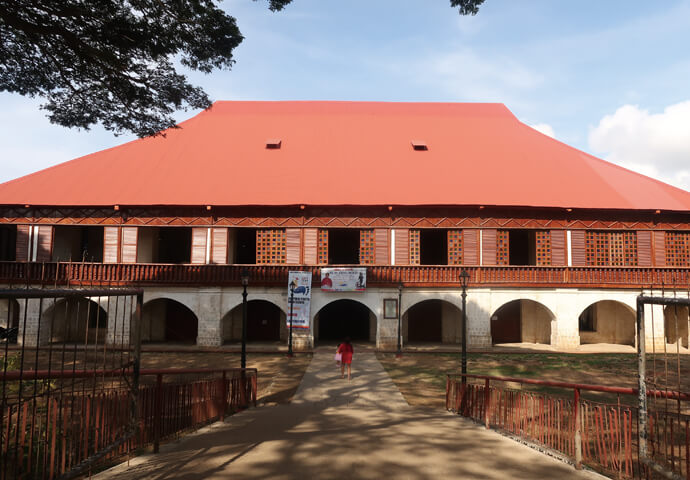 8:45 "CONVENT OF LAZI"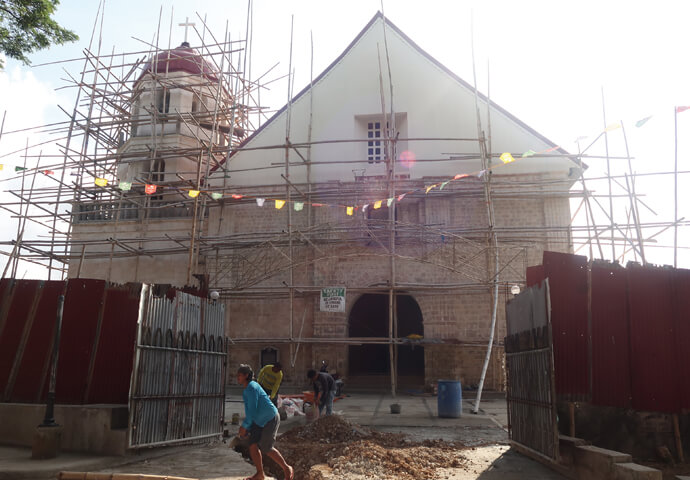 The Lazi Church is made of corals, stones and wood drifted from the sea, and is designated as a National Cultural Property. The monastery across the church is the largest in the Asian region!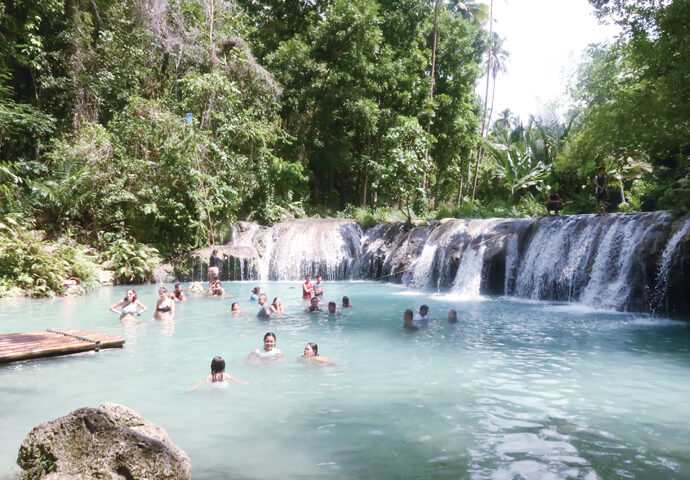 9:30 "Cambugahay Falls"

Dive into the waterfall`s diving spot with a tarzan rope from a bamboo tree! Admission fee is free, but you should pay P50 for an unlimited tarzan rope experience and rent a life jacket worth P100. It's a great spot in Siquijor you can't miss out on!
11:00 Head to the Port of Siquijor (Larena)
11:45 Arrive at the Port of Siquijor (Larena)
12:30 Siquijor (Larena) port departure
14:30 Via Bohol (Tagbilaran)
16:40 Arrival at Cebu (Pier) Port
Back to the list