Play without reservations! Popular Activity Spots in Cebu!
© CEBU navi SAKURA | vol.22 Jul.-Aug.|2019
Don't worry about troublesome reservations. We're introducing activities you can enjoy when you want to! Have fun together with your family, friends, or sweetheart!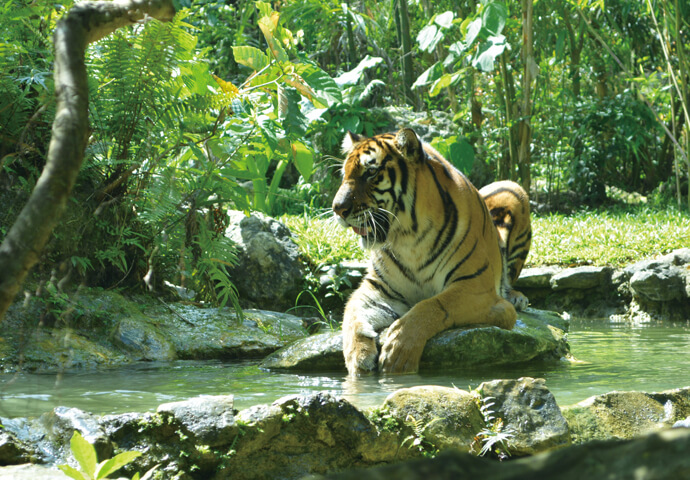 The excitement of a wild tiger in front of you!
Safari and Adventure Park
Full of highlights and animals! Cebu's one-and-only safari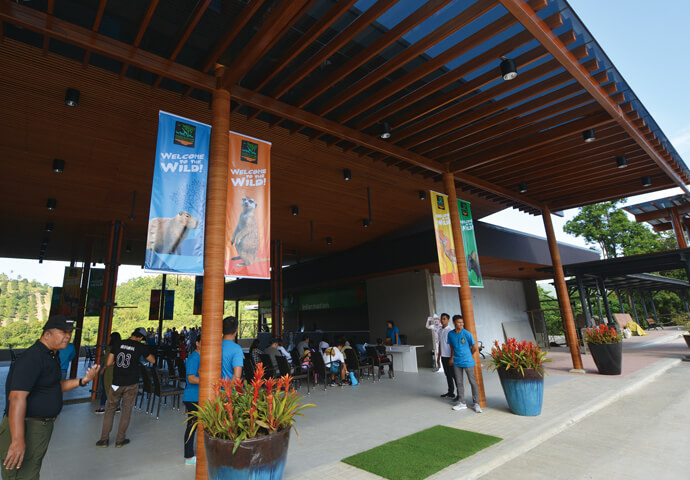 About 50 km north of Cebu City, the Cebu Safari & Adventure Park opened in 2018 in Carmen. It takes about 2 hours by bus from Cebu City to the center of Carmen, and from there it's about 15-20 minutes by van/car or habal-habal , etc. to Cebu Safari and Adventure Park.
The staff will greet you at the reception desk. After you pay, receive your wristband, and a simple explanation and rundown of the rules, then it's time for your great adventure to begin.
The massive, 170 hectare site (about 36 Tokyo Domes) is divided into three areas: a zoo area, savanna area, and a botanical area where about 1000 animals of 111 different types are raised. Because the park is so huge, you can use a tram to move about. Experience a series of surprises and discoveries as you can see a variety of animals, like giraffes, lions, tigers, crocodiles, and others, from a short distance away! Many colorful birds are also kept here and up close experiences, like feeding them, are a real treat. There are also photographers throughout the park who can take keepsake photos of you with the animals. When you get hungry, there are restaurants throughout the park, serving dishes for adults and children to enjoy, like a Filipino-style buffet.
In addition to the zoo, there are a total of 7 activities available, including the largest zipline in Asia at 1.2km, a zipline coaster, sky bikes, and spider walk, as well as a hotel inside the park. You won't be able to take your eyes off it!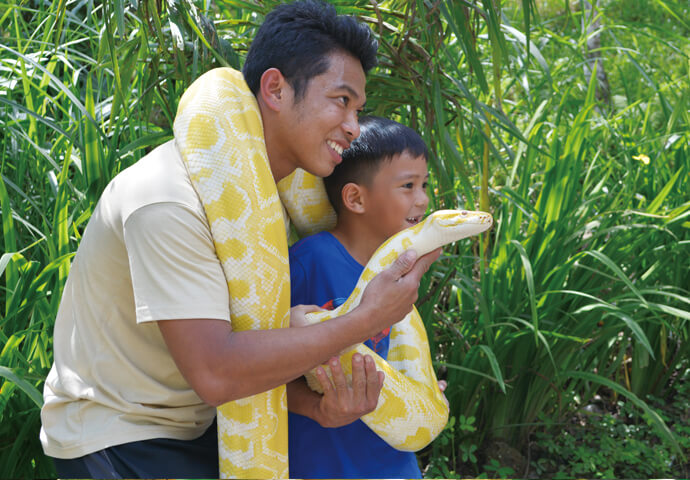 How about a commemorative photo with this giant snake?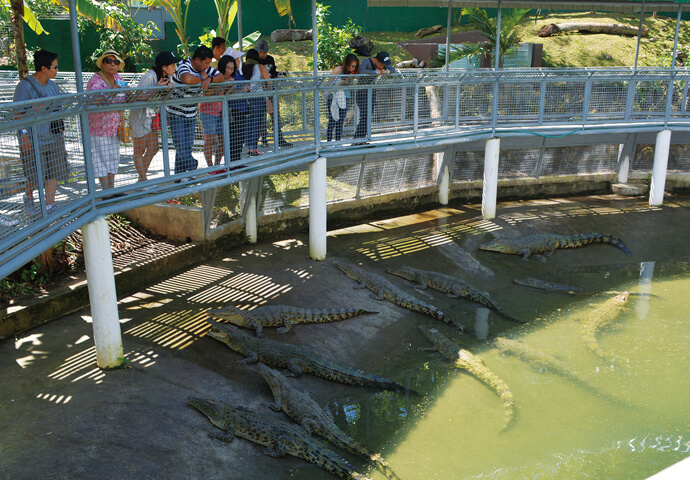 So many crocodiles!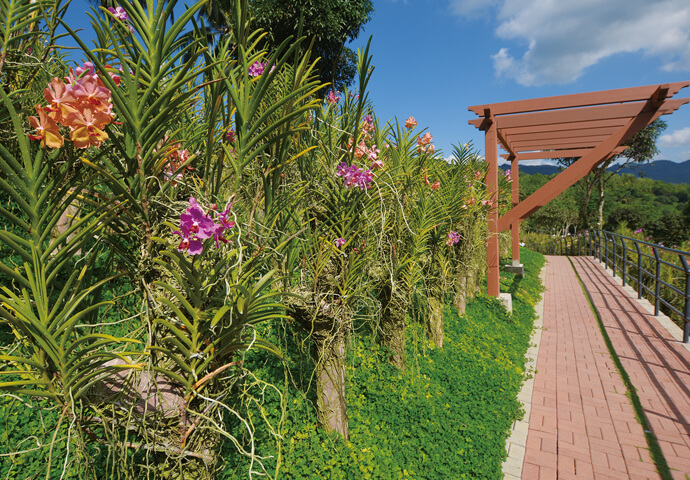 Located on the mountainside of Carmen, in Barangay Corte.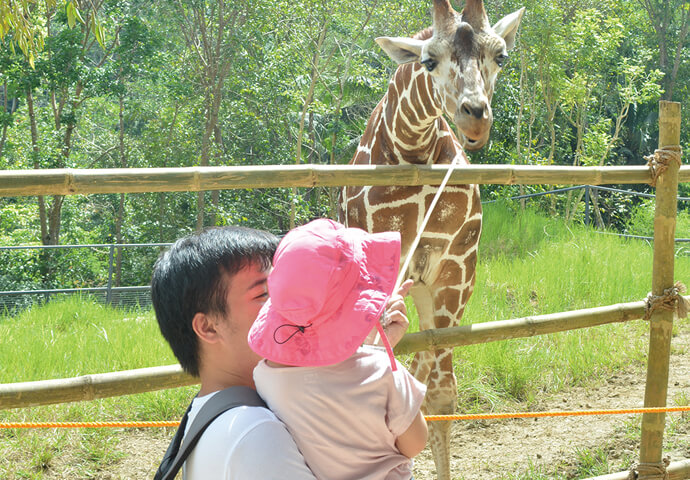 Kids love giraffes! You can even feed them!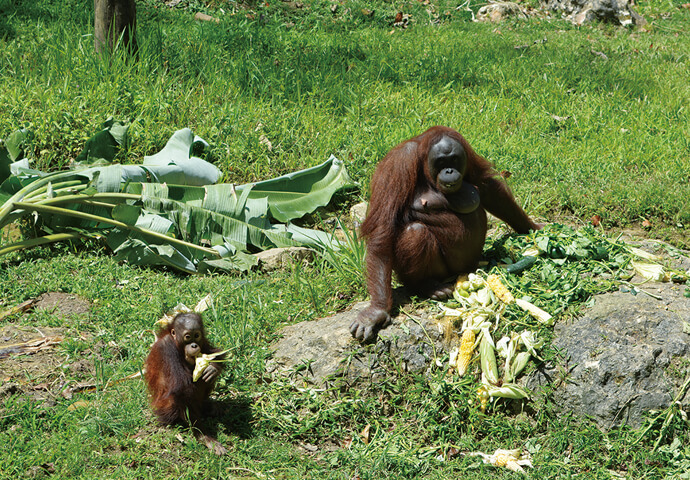 Orangutans love corn even more than bananas!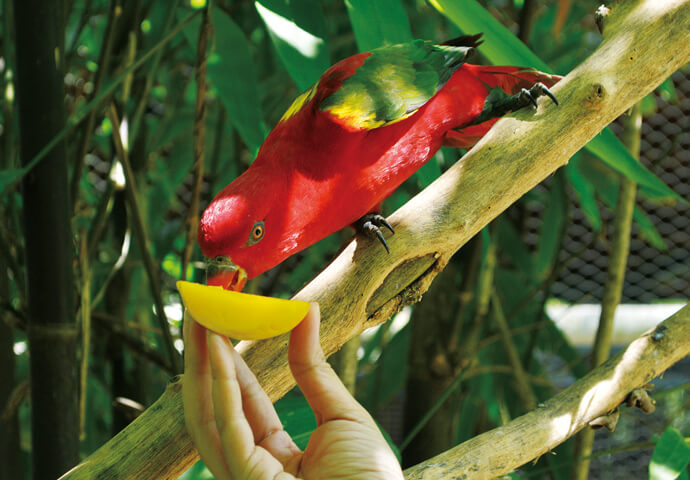 Colorful birds are truly captivating!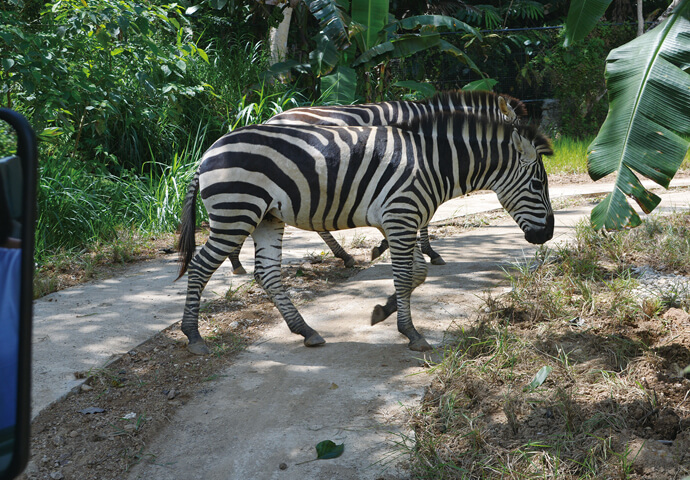 You can get close to a zebra.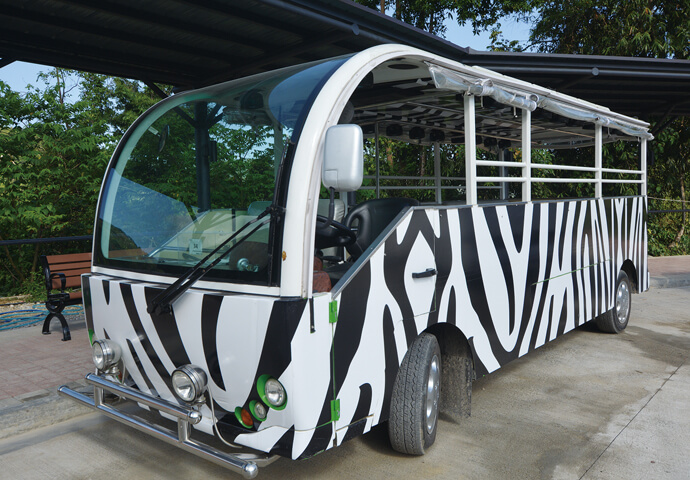 Go about the park at your own pace using the tram.
How to get there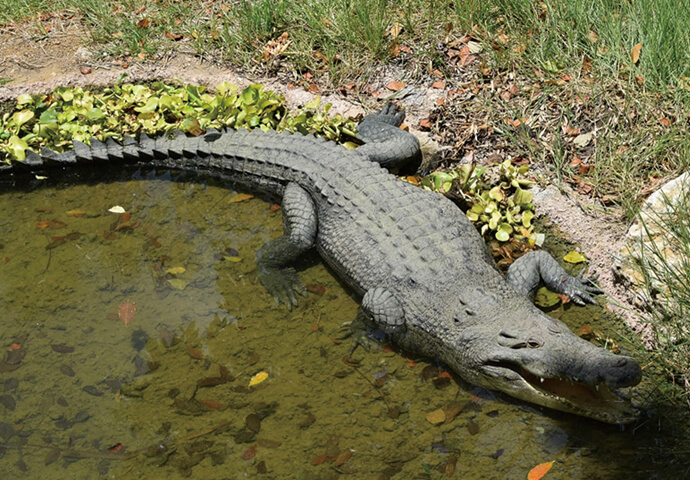 Traveling via private vehicle will get you to the park in no time, though public transportation is also available from the North Bus Terminal. In the terminal, look for buses that will go through Carmen. Once on board, ask the driver to drop you off at Carmen National High School. The road beside the school leads to the park and here, you can hire a habal-habal to take you to the park for about P100/person.
Entrance fee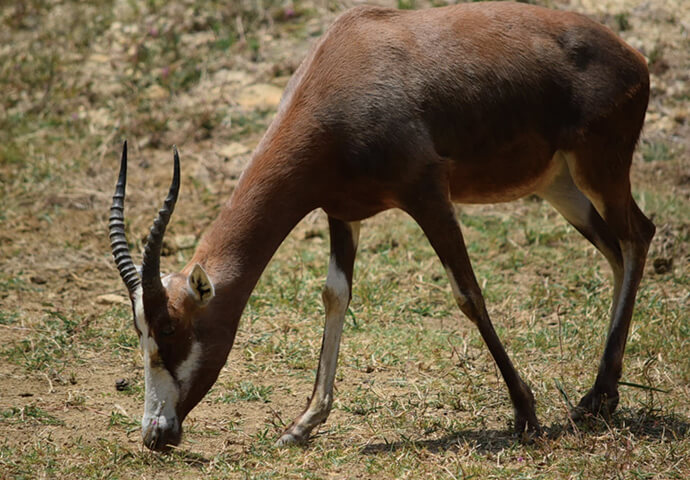 The entrance fee is P800.
Children between 2 to 3 feet tall will receive a 50% discount. There is no charge for children under 2 feet tall.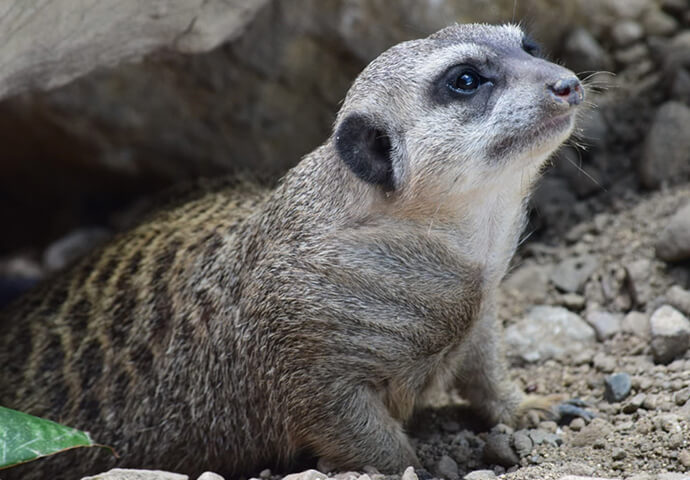 TEL: (+63)32-344-1095
(+63)917-837-2243 (Globe)
(+63)917-839-1739 (Globe)
(+63)928-475-5718(Smart)
Address:Barangay Corte, Toril, Carmen, 6005 Cebu,
Business Hours:8:00-17:00
Holidays:Mondays、Tuesdays
E-mail:sales@cebusafari.ph

Extreme Aeropark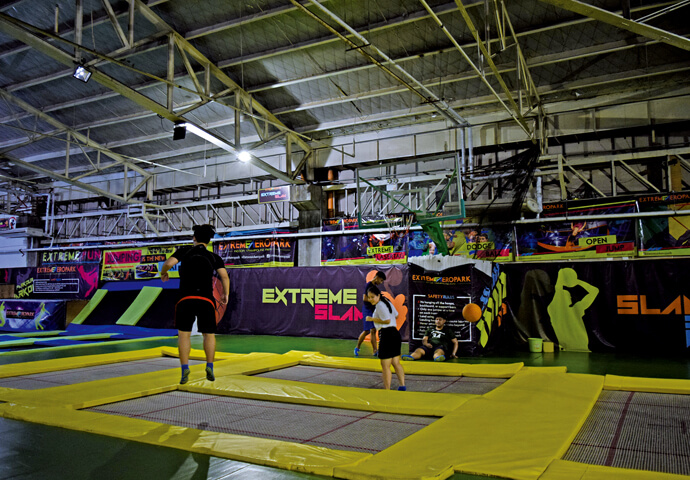 It's like living in a dream for kids and adults! Have fun while you jump!
Enjoys trampolines & sports! New sensations at this trampoline park!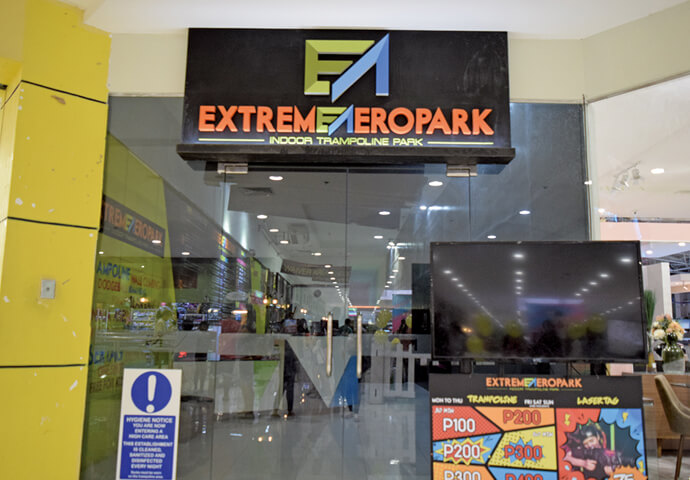 Located on the 2nd floor of Park Mall, this trampoline park has a whole floor that's a trampoline so you can move this way and that freely. And you can enjoy sports like dodgeball and basketball as you jump.
There's also a "NINJA" area where you can try survival games, like the Japanese TV show "SASUKE". The "NINJA" area consists of 6 zones: Quad Steps, Fidget Ladder, Wall Climb, Cargo Net Climb, Diagonal Monkey Bars - each which require the use of different muscles. If you're confident in your motor skills, of course, come give it a try! And if you're looking to improve your muscle strength, please give it a try as well!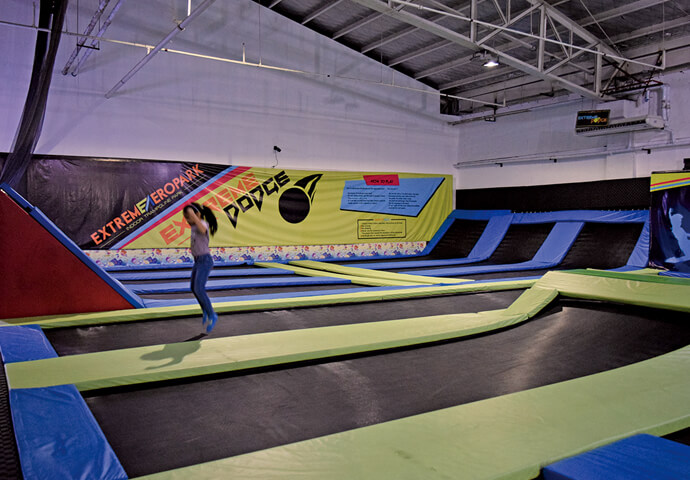 Trampolines are popular in Japan! Feels good to soar!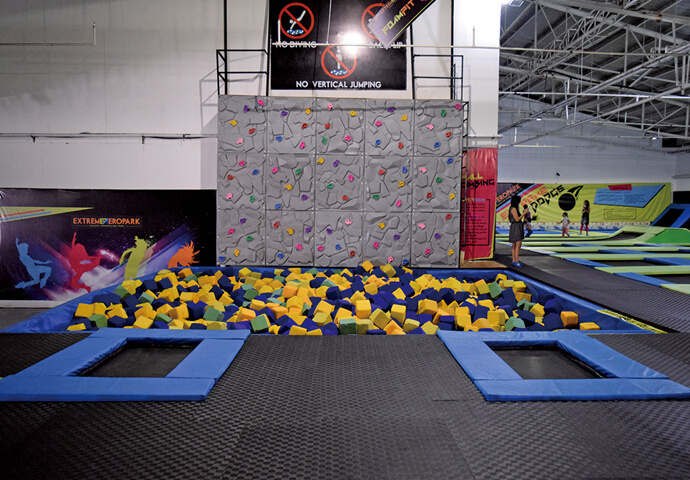 Worry-free bouldering!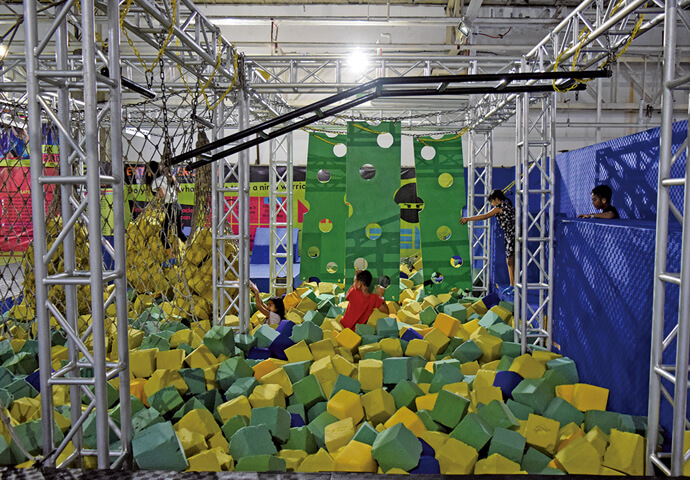 Test your personal limits in the NINJA area!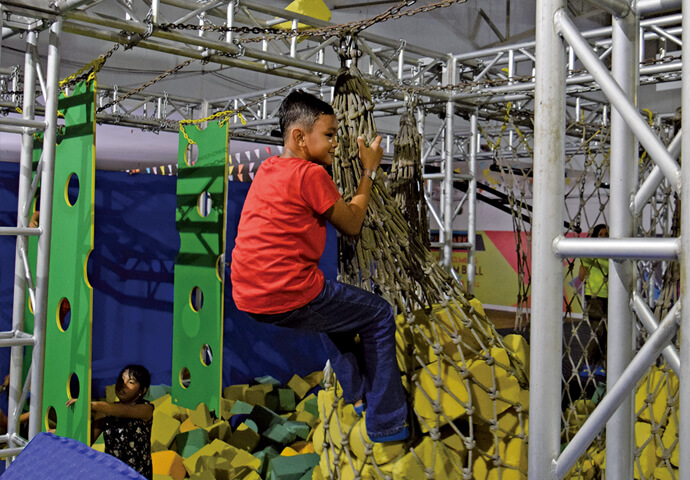 Strength building as you play!
Rates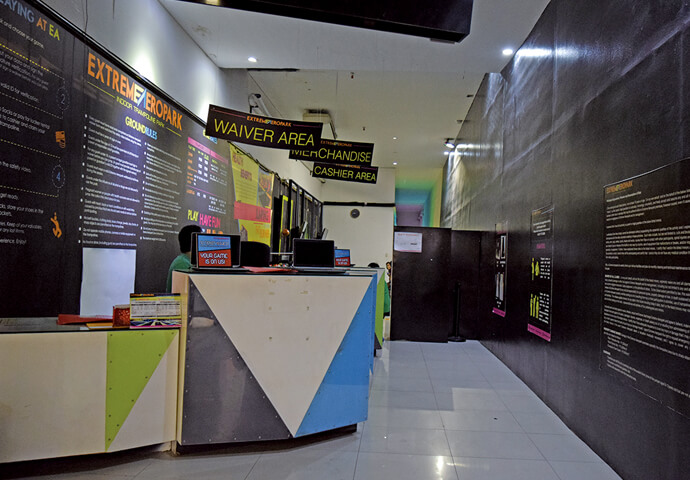 ◆TRAMPOLINE
・30min P100(Mon-Thur) / P200(Fri-Sun & Holidays)  ・60min P200(Mon-Thur)/ P300(Fri-Sun & Holidays) ・UNLI(One-time entry) P300(Mon-Thur) /P400(Fri-Sun & Holidays)
GUARDIAN – Half of the kid's play rate  GRIP SOCKS – P80   LOCKER – P50

◆LASER TAG P75(Mon-Thur)  P90(Fri-Sun & Holidays)

TEL:(+63)925-828-0806/(+63)915-258-0806
Address:Parkmall 2nd floor  
Business Hours:10:30-20:30
Facebook:Extreme Aeropark  
Instagram:@extremeaeropark
Sky Experience Adventure
A thrilling experience the view of Cebu at 130m!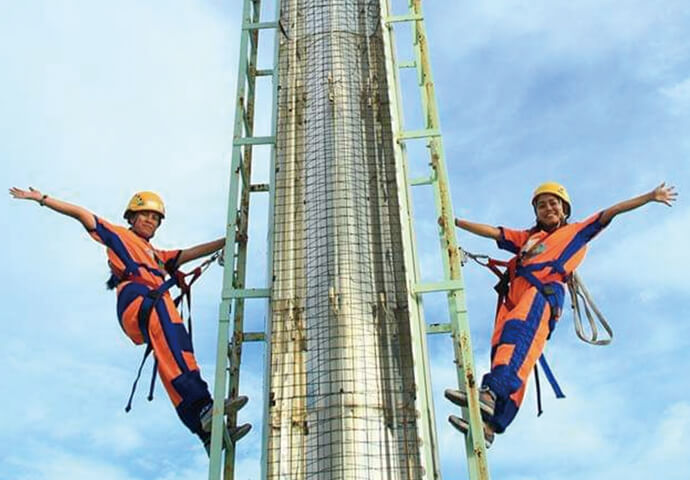 Located in Crown Regency Hotel & Towers, Sky Experience Adventure is a hot spot to try various Sky Adventures in Cebu City. The Skywalk Extreme is an aerial promenade boasted as the No.1 tallest in the Philippines, the "Edge Coaster", a two-seat roller coaster that tilts up to nearly 55 degrees at a height of 130.84 meters no that 38th floor of the Tower, and a rooftop rock climbing wall called the "Paramount Climbing Wall". Nothing but thrilling activities here!
And in addition, on another floor you can experience rain, wind, snow, bubbles, and more in their new sensory 6D Theater, a Vivio playroom for kids, blacklight mini golf, and more. This whole building is truly entertaining! There are also restaurants and spas here, so you can enjoy a full day of eating, drinking, relaxing, and playing.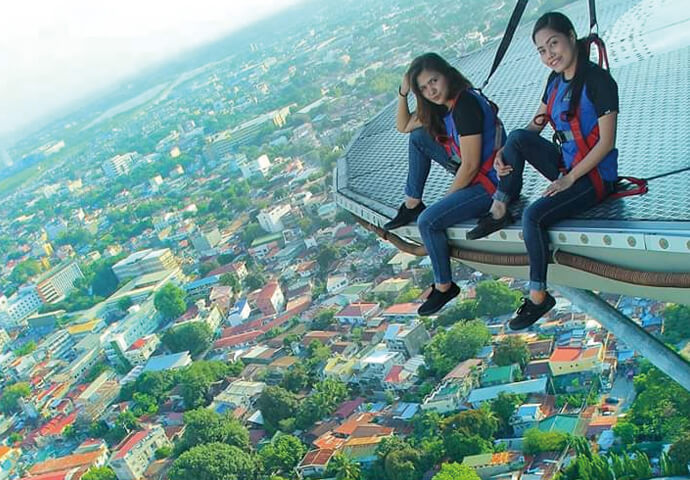 SImple but thrilling! Walk on their 38th floor promenade (with a lifeline) with "Skywalk".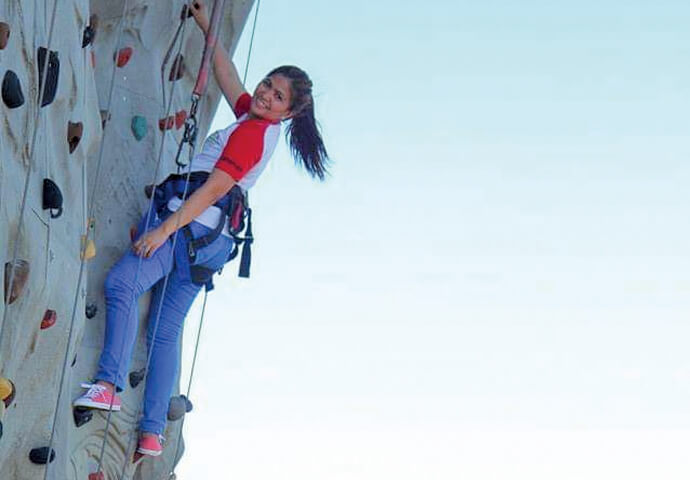 Of course their rooftop bouldering has lifelines.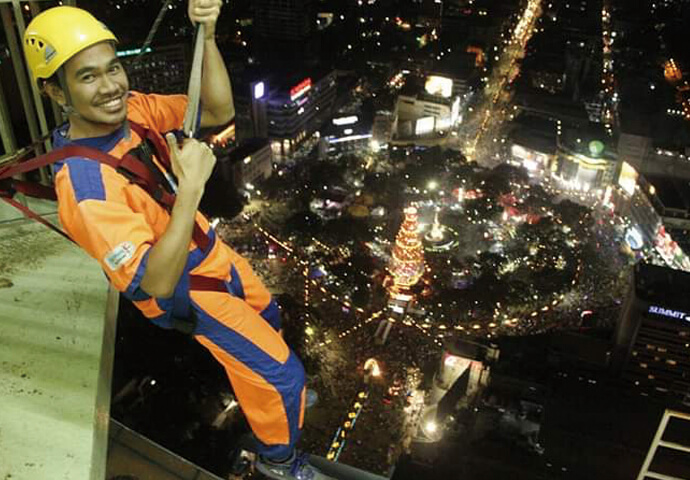 Good night view!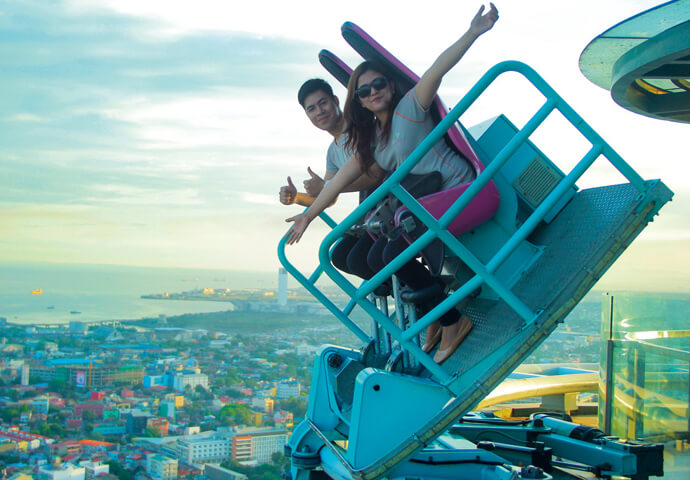 Maximum scares with the "Edge Coaster"
Rates
◆COMBO PACKAGES
Combo 1 (sky ride with entrance) - P600 /person
Combo 2 (Two sky rides with entrance) - P900 / person
Combo 3 (Three sky rides with entrance) - P1,150 / person

Additional ride - Php 350 / person

◆RIDE + SPARKZ RESTOBAR DINNER BUFFET
1 sky ride + Dinner Buffet - P1,000 / person

TEL:(+63)32-418-8888
Address:Tower 1, Crown Regency Hotel and Towers Fuente Towers, Osmeña Boulevard, Cebu City
Business Hours:MONDAY-FRIDAY 14:00-24:00
SATURDAY-SUNDAY 10:00-1:00
SM Ice Skating
Ice Skating in tropical Cebu!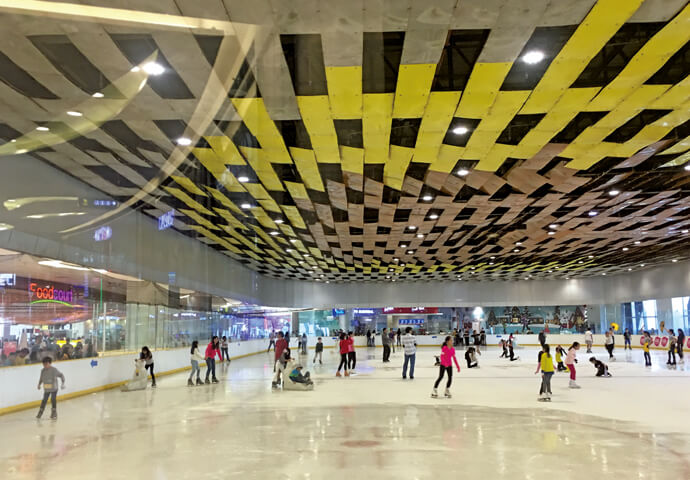 Enjoy ice skating in Cebu on the 3rd floor of SM Seaside at "SM Ice Skating!" People love winter sports in the heat of Cebu! The weekends get crowded, so if you're looking to zoom around the wide rink, it's best to come on a weekday.
Beginners and those who don't want skate on their own can try renting a Polar Bear (P100/1 hour). You can get a sense of sliding and gliding just by grabbing the bears' ears and pushing. You can also hire a coach separately. If you really want to improve, please try taking skating lessons.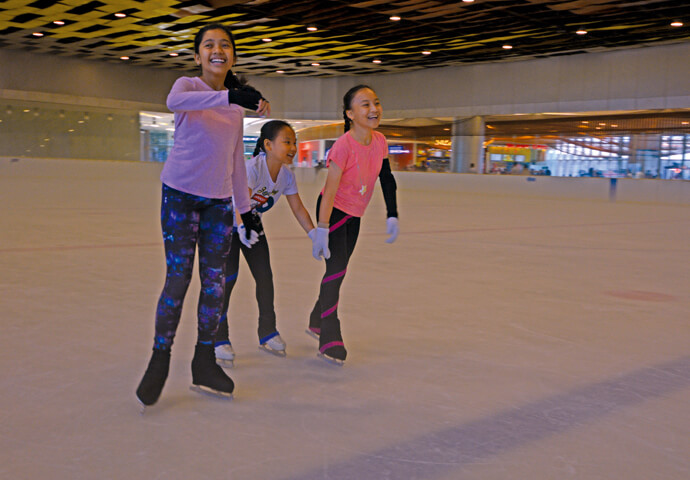 Local children also love to skate♡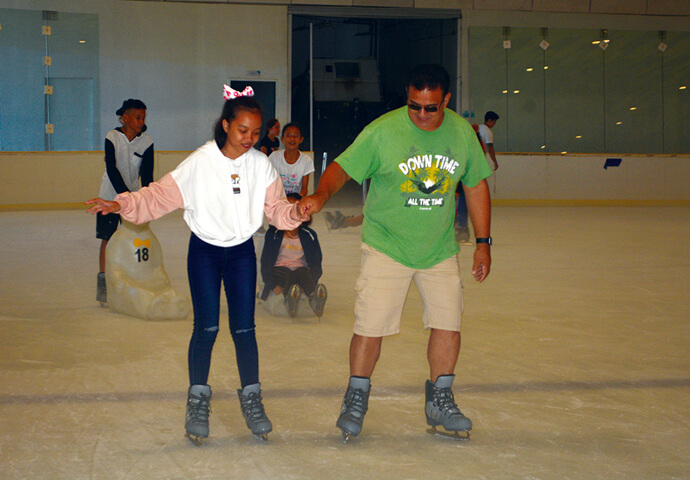 It's exciting to try something new.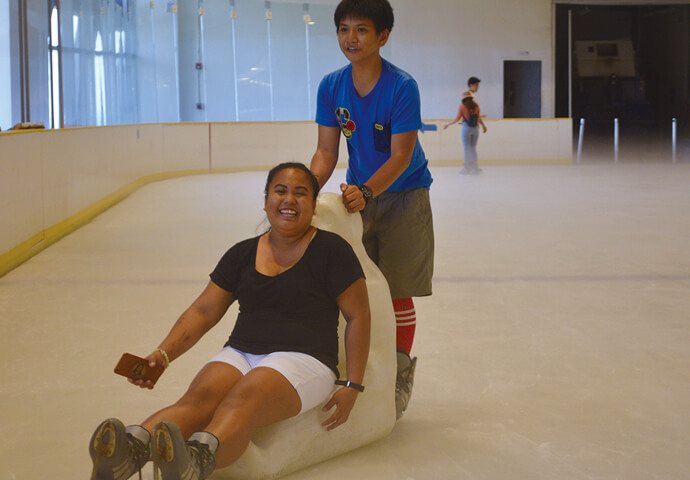 The polar bear is so cute!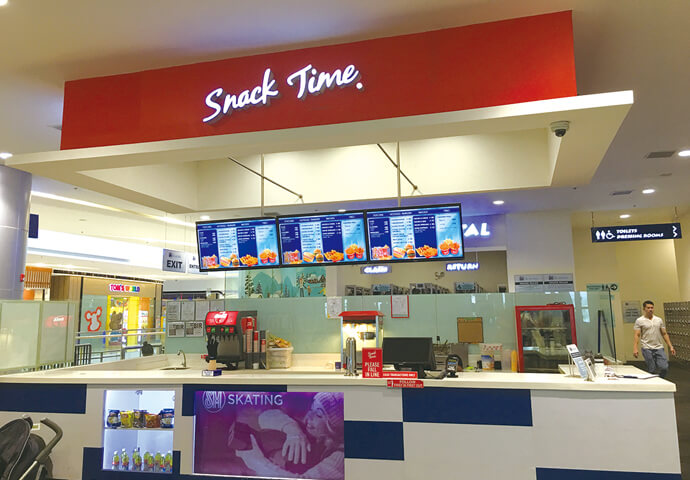 You can also order hamburgers and french fries from the rinkside fast food shop!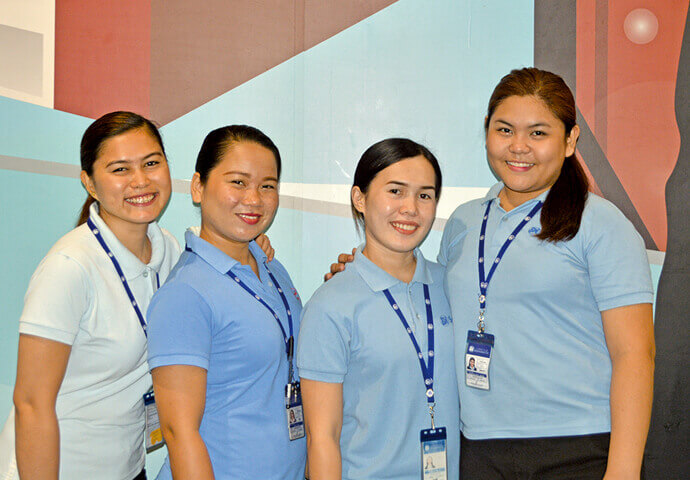 Everyone, come and play!
Rates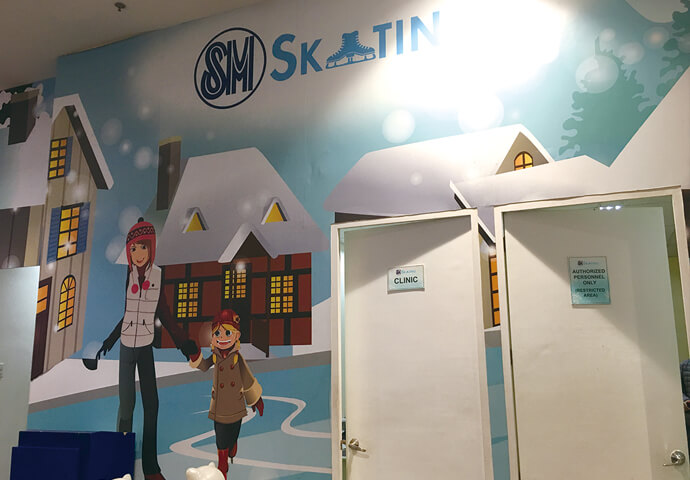 AllPass or Unlimited Skating : P420 for the whole day
Polar Bear Aid rental per hour: P100
Assist Coach Services: P150 / 30 minutes
Locker rental fee: P50 
Companion pass entrance fee: P100
*The ice skating boots fee is already included in the all-day pass access.
*Wearing socks are required. If you forgot to bring one, there are socks for sale in the rink counter.

TEL:(+63)32-234-0787
Address:3F Ice Skating Rink, SM Seaside City Cebu, South Road Properties, Cebu City
Business Hours:Monday to Sunday 10:00–21:00
Wild Bow Archery
Concentrate, aim....The feeling of hitting the target!
"Wild Bow Archery" is a spot inside of SM Seaside where you can enjoy archery regardless of the weather. Find the anchor point under your jaw, aim, and release the bow! Enhance your concentration, aim at targets, and experience the thrills of hitting the mark! It's a convenient place to stop by while shopping or on a date and is a fun challenge for children over 6! Why not tackle the challenge as a family or group?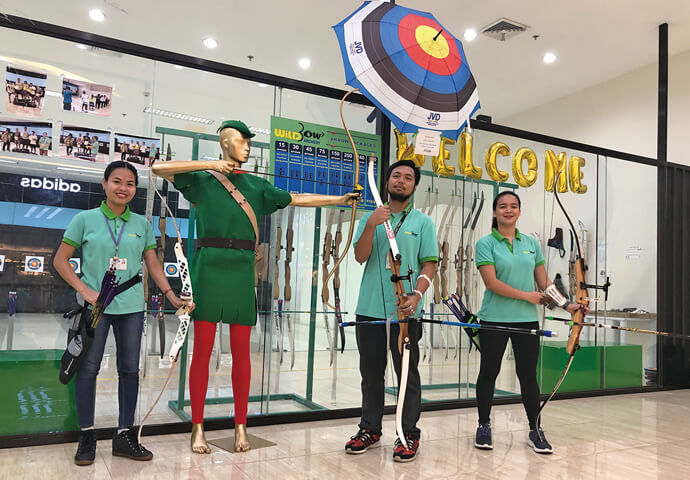 The instructors pick the best bow for you.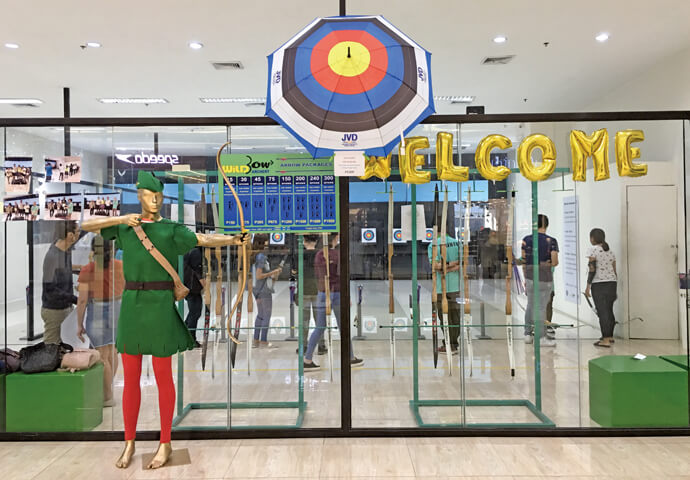 Experience archery leisurely inside a shopping mall.
Rates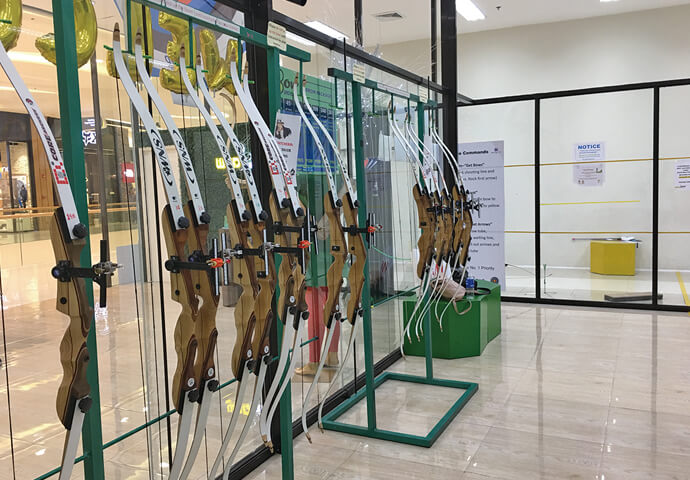 15 arrows - P150 (Max number of persons sharing arrows: 1)
30 arrows - P275 (Max number of persons sharing arrows: 2)
45 arrows - P385 (Max number of persons sharing arrows: 2)
75 arrows - P675 (Max number of persons sharing arrows: 3)
150 arrows - P1200 (Max number of persons sharing arrows: 5)
200 arrows - P1500 (Max number of persons sharing arrows: 5)
240 arrows - P1680 (Max number of persons sharing arrows: 6)
300 arrows - P1950 (Max number of persons sharing arrows: 6)

* Target face P40


TEL:(+63)917-162-5233
Address:2F Cube Wing, SM Seaside City Cebu, South Road Properties, Cebu City
Business Hours:Sunday -Thursday 10:00-21:00
Friday & Saturday 10:00-22:00
Get coupon!
https://cebu-sakura.com/admin/shop_controllers/edit/520
Upside Down World
A topsy-turvy, upside-down, Instagrammable world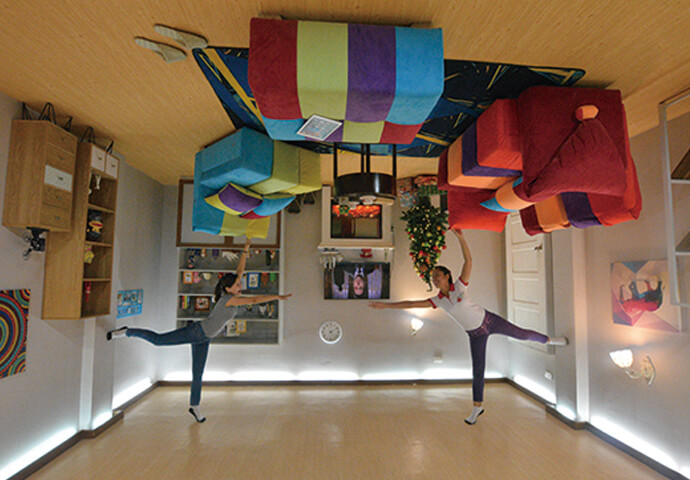 Optical illusions are really popular in Japan and in Cebu right now! On the 2nd floor of Times Square in Cebu City is "Upside Down World" where you can enjoy a variety of rooms like living rooms, bedrooms, kitchens, casinos, and more all flipped upside down. The staff can take pictures for you, so you can enjoy this by yourself too. Be surprised, laugh, have fun, and don't forget to upload your pictures to SNS!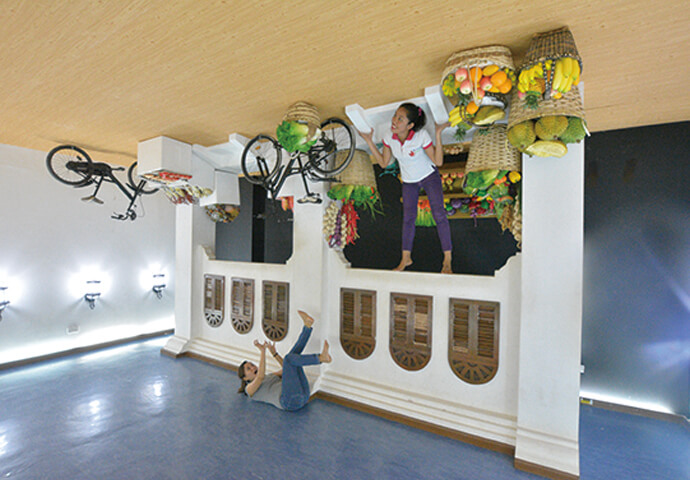 Vegetables, fish, everything is upside down in this marketplace!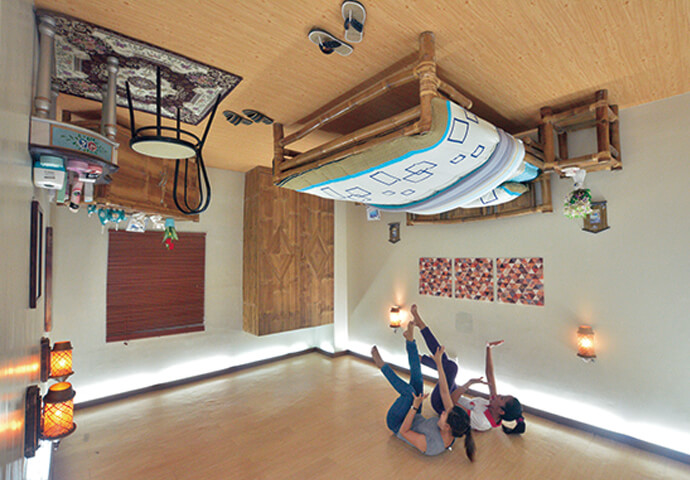 I wanna sleep but can't !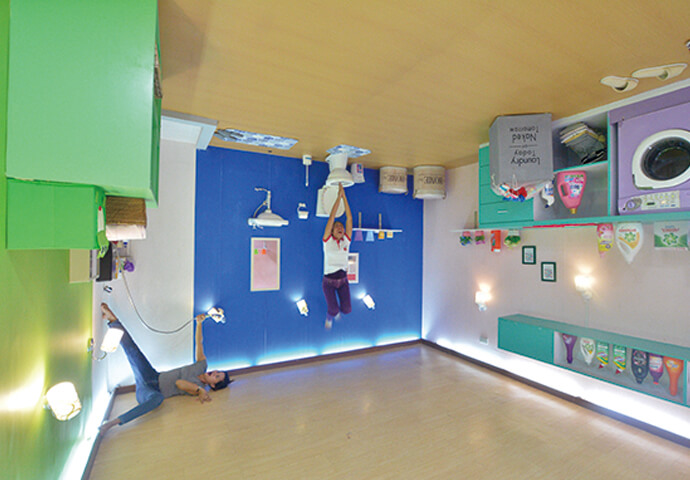 Get sucked up by the toilet!
Rates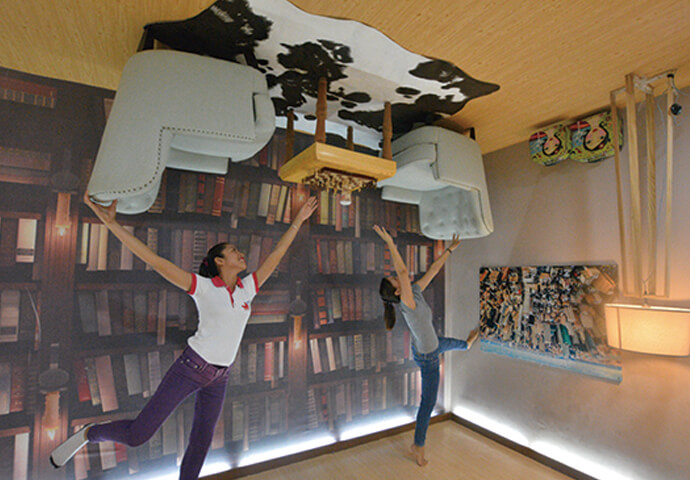 Adult(13years old above) P250
Kids(4-12years old) P170
Free (0-3 years old)
Students, Senior Citizen, Pwd(with ID) P170

TEL:(+63)32-234-7862
Address:2F Unit A 204-206 City Time Square 2, Mantaw Int'l Drive Tipolo M.C
Facebook:Upside down world cebu
E-mail:upsidedownworld.cebu@gmail.com  
Business Hours:10:00-21:00
Get Coupon!
https://cebu-sakura.com/admin/shop_controllers/edit/434
Back to the list