Guitars: The Making of a True Cebuano Pride
© CEBU navi SAKURA | vol.12 Nov.-Dec.2017
One of the major industries supporting the island, the guitar industry.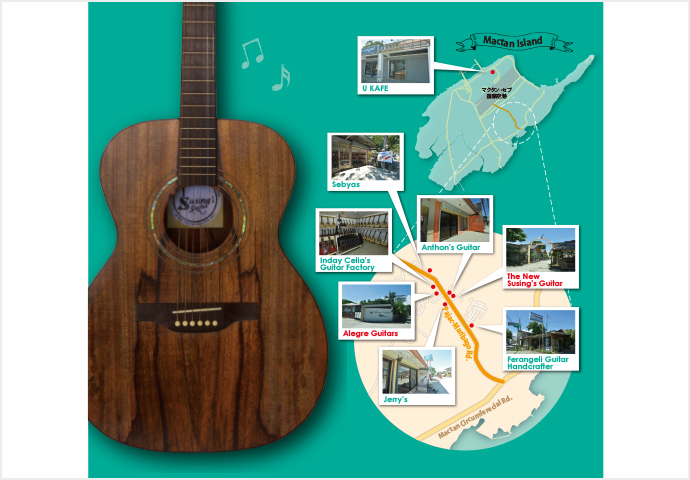 Cebuanos are known for their impeccable love for music which is something that is rooted deep in the island's history. They're also known around the world for their high-end guitars. The guitar making industry has been thriving on the island for decades and plays an important role in Cebu's economy.
Guitars, or "gitaras" as their known locally, were first introduced to the island during the Spanish Era, with their name derived from the Spanish word "kitara". Spanish friars brought their "kitaras" with them to the Philippines. As time passed by, their stringed instruments wore out. Sending them to Mexico, their country of origin, for repairs seemed to be impractical. So, they thought of another option; they asked locals from Lapu-Lapu to repair and replicate their instruments. Savvy locals then saw this as a good opportunity to start a business and thus, started one of the oldest industries in Cebu and Lapu-Lapu City.
Today, the guitar making industry still mostly uses traditional techniques. Guitars and other stringed instruments, such as ukuleles and banjos, are not just popular locally but globally, exporting as many as 300,000 pieces per quarter to countries such as the United Kingdom, United States, and other parts of Asia. Currently, the demand for guitars and other stringed instruments in the country and abroad continues to increase, withstanding the current worldwide financial crisis.
But what makes these stringed instruments so unique and special? Guitar enthusiasts would say its the melodious tones they produce that leads them to seek out Cebu-made guitars. But it's not only the sound quality that attracts them, it's also the intricate designs incorporated into each piece, the meticulous way the skilled luthiers make them, and the materials that are used. Mahogany, acacia, and mango wood is used for pieces that will be sold and used locally, while spruce, cedar, rosewood, and koa wood is used for pieces that are meant to be exported. Imported wood is used to ensure the guitars are able to withstand the hot and cold temperatures abroard to maintain their physical appearance.
In this feature article, we have visited popular guitar manufacturers in Lapu-Lapu City to see how these lovely musical instruments are made. Let us take you on a musical journey through the Abuno area in the Pajac district of Lapu-Lapu!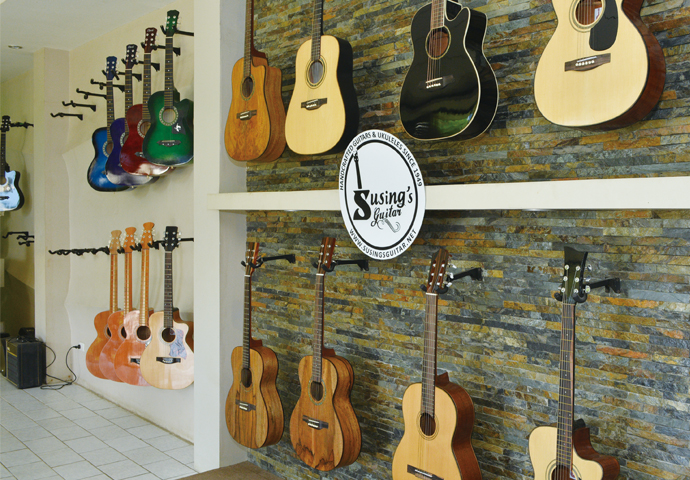 Guitar making process at The New Susing's Guitar
See the guitar making process for the first time. Feel the work of skilled craftsmen.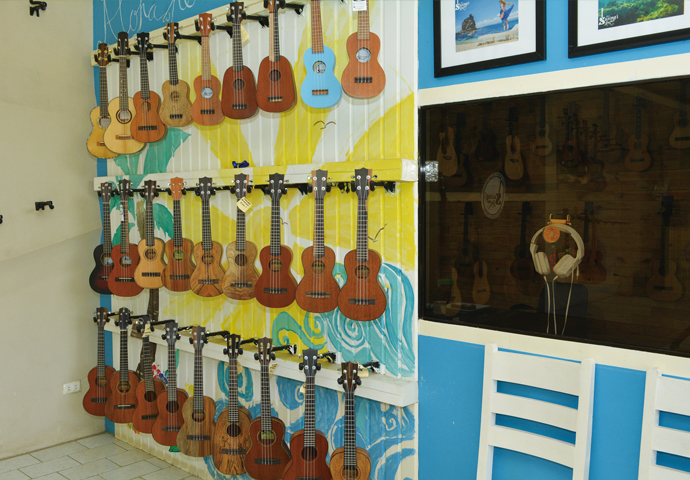 We also visited the biggest and oldest guitar manufacturer in Pajac, The New Susing's Guitar.
Susing's Guitar is a famed brand here and abroad. In addition to classic acoustic guitars and ukuleles, they also customize guitars and ukuleles according to their customers wants. A standard guitar will take a few days to create. However, the customized guitars or ukuleles will take 3-4 weeks to complete.
We went on a factory tour to find out how each piece is made.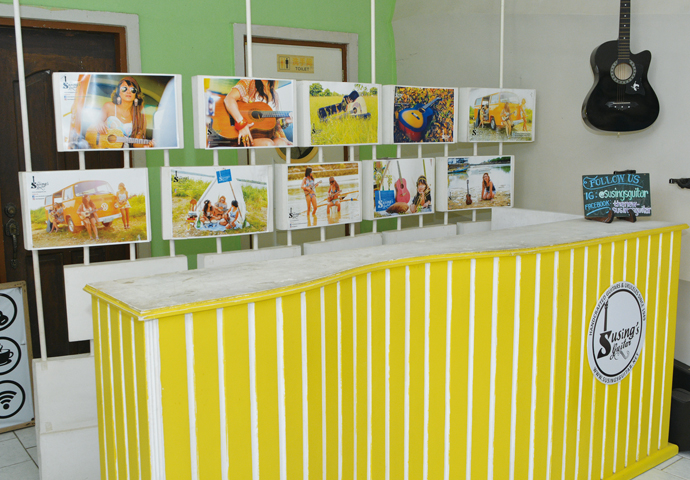 Guitars, ukuleles, cellos, mandolins, and other stringed instruments are all in a row inside their shop. You can buy a Susing's guitar at the store next to the factory.
STEP1.Assembly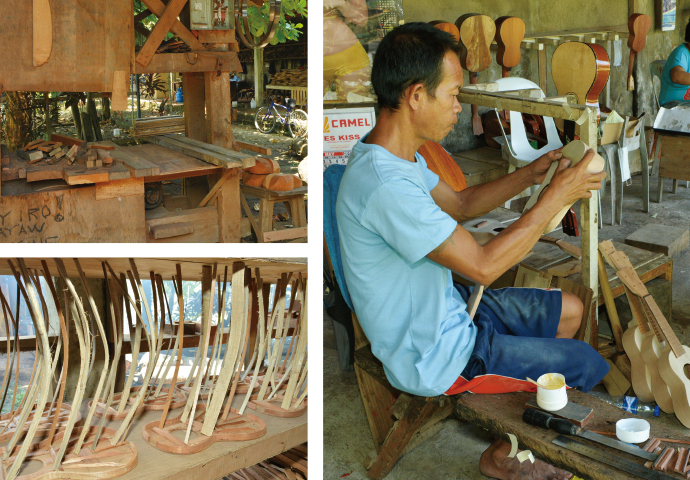 This is where the cutting of the wood takes place. They cut and shape the wood to form the necessary parts of the instrument, then they set them aside for a few days to fully dry. Once the pieces are fully dry, the assembling takes place, putting the pieces together used wood glue and applied pressure.
STEP2.Glossing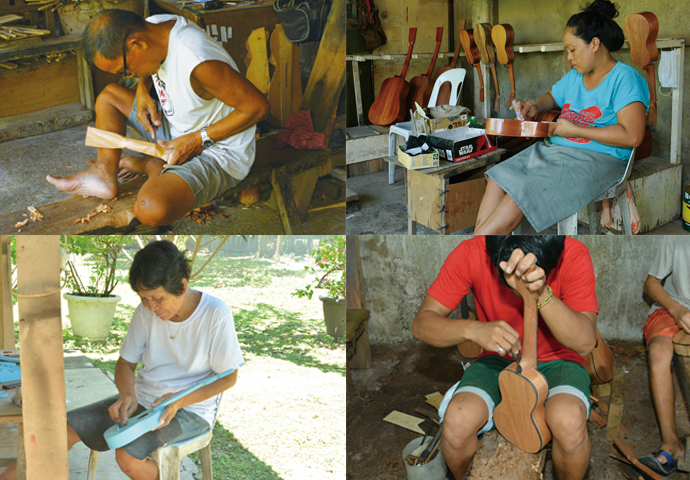 When all the necessary parts are glued together, then glossing follows. This process makes the surface flawless by sanding the edges, taking away tiny unnecessary pieces, and bringing life to each piece with nitrocellulose lacquer for a natural wood finish or painting each piece with vibrantly colored painting and incorporating patterns and designs.
STEP3.Quality Control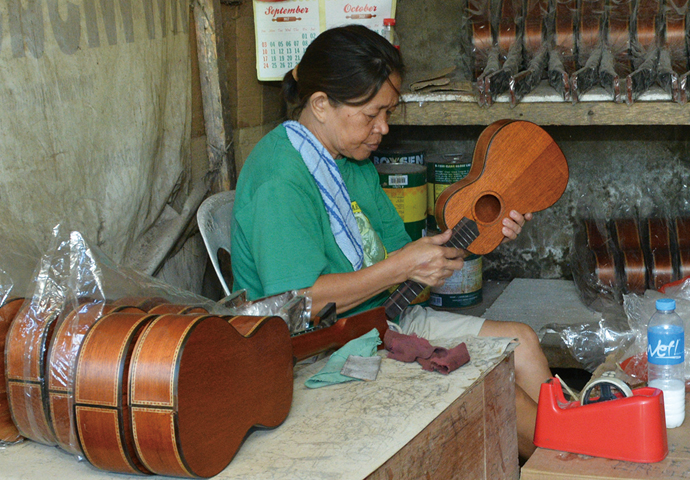 At this stage each piece is carefully inspected for imperfections.
STEP4.Final Touches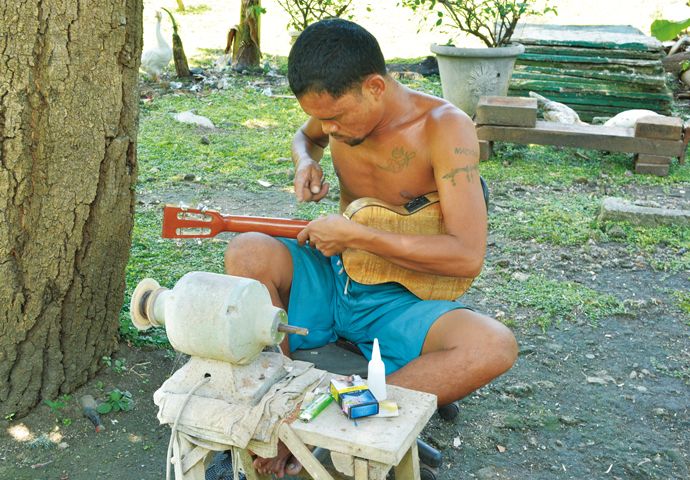 In the final stage, the strings are attached and other finishing touches are made.
取材協力 The New Susing's Guitar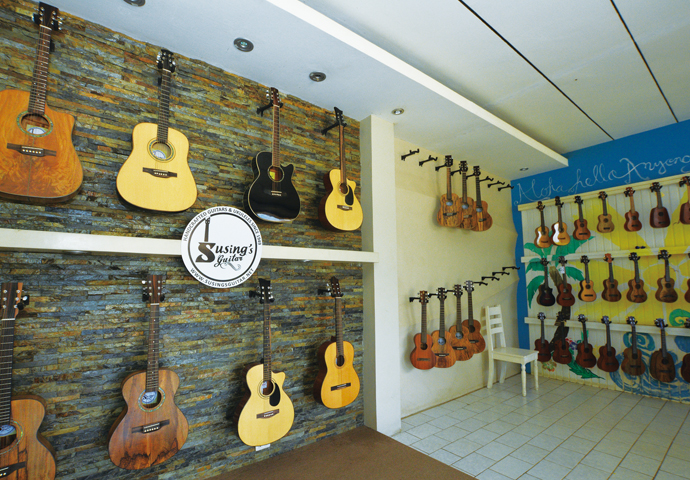 Abuno, Pajac Lapu-Lapu City
(032)505-0723
Factory: 8:00-17:00(Mon.-Sat.)
Shop: 8:00-17:00(Mon.-Sun.)
thenewsusingsguitar@gmail.com
Visiting Allegre Guitars
These tours are popular even on weekdays! Mactan largest guitar store.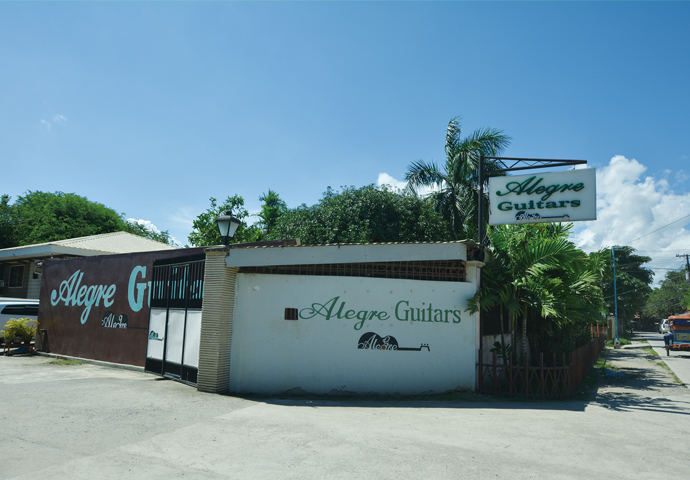 Alegre Guitars is one of the most prominent guitar makers for both local and foreign visitors. You'll be greeted by clean, lush, green surroundings as you enter their factory. A salesman will welcome you and provide you with insights on how guitars are made. Inside, you'll see the area where the luthiers are at work making guitars and other instruments. Just beside this area is a small souvenir shop selling hand-made products. The last part of the tour will bring you to their showroom. Guests can freely marvel at the wonderfully crafted guitars, ukuleles, cellos, banjos, and the Philippine version of the mandolin, the bandurria. Adjacent to the showroom is another room where all the high-end guitars are displayed. Guests who wish to purchase any of their products may buy them here at the factory on Pajac-Maribago Road in Lapu-Lapu City or in their shop along M.L. Quezon National Highway, also in Lapu-Lapu City, Cebu.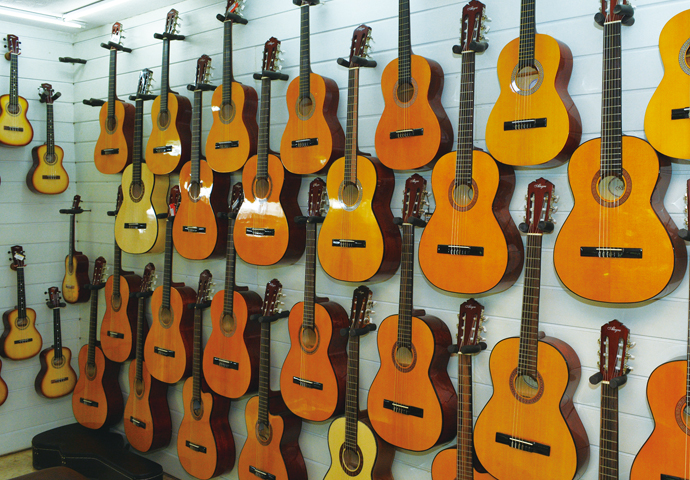 High-end guitars will greet you as you enter their showroom!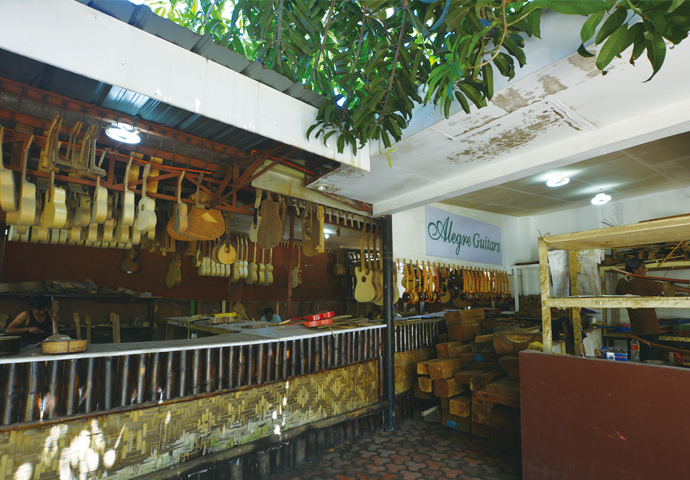 You can see the experts making guitars and ukuleles inside the factory.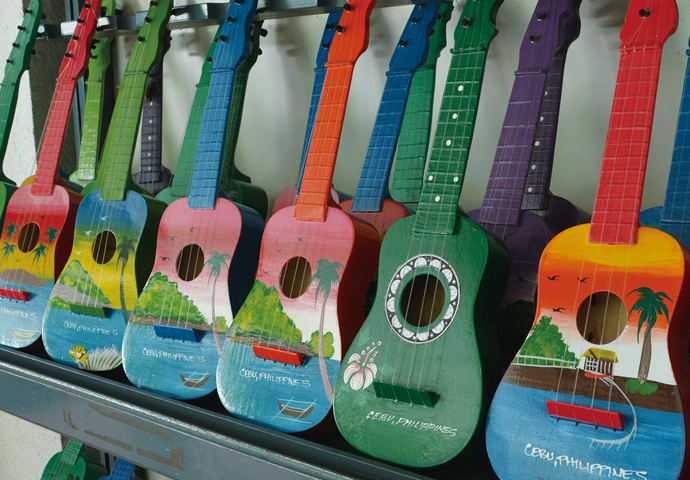 Discover colorful instruments that make perfect souvenirs!
取材協力 Allegre Guitars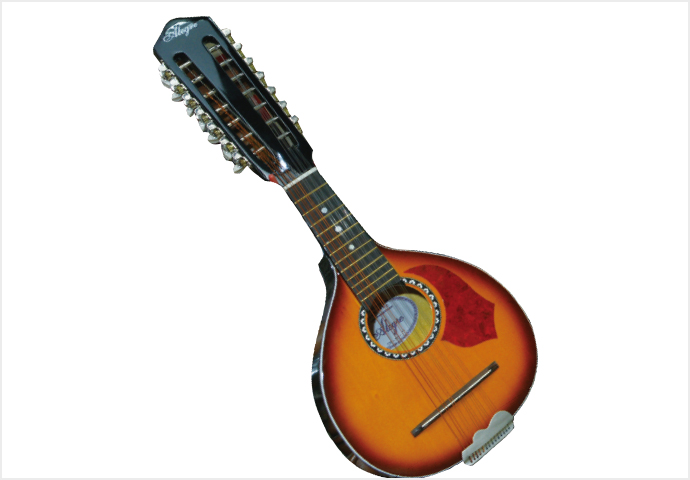 Main Branch:
Abuno, Lapu-Lapu City
(032) 238-5755
8:00-18:00(Mon.-Sun.)
alegreguitar@yahoo.com.ph

Branch:
M.L Queszon
St.,Lapu-Lapu City
(032)260-7621
8:30-17:00(Mon.-Sun.)
Back to the list